Product description: Ultraviolet light sensor UV - LTR390-UV I2C - Waveshare 20467
Digital ultraviolet UV light sensor module featuring the LTR390 chip. Designed to measure ultraviolet radiation and visible light. Features high sensitivity, fast response and compact size. Allows easy integration with other devices. It has a built-in ADC converter. Enables measurements of radiation of wavelength from 280 nm to 430 nm. Powered from 3 V to 5 V, it uses the I2C bus to communicate with the controller module.
Features
Contains the LTR390-UV-01 chip for ultraviolet and visible light measurement
Equipped with ADC converter
Uses I2C bus to communicate with main modules
Enables measurement of radiation in the wavelength range from 280 nm to 430 nm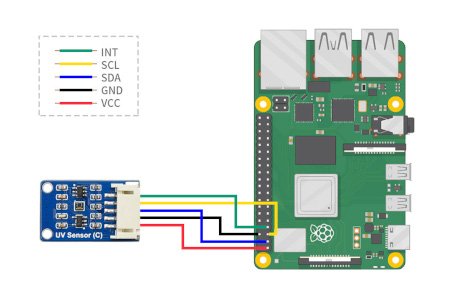 Connection diagram of UV light sensor with Raspberry Pi (to be purchased separately).
Pinout and connection diagram
Red line - VCC - power supply pin 3,3, V / 5 V
Black line - GND - ground
Blue line - SDA - I2C interface data line
Yellow line - SCL - I2C interface clock line
Green line - INT - interrupt pin
Product is compatible with Arduino and Raspberry Pi!
On manufacturer website you can find connection diagram for each board. Check it out!
Technical specification of Waveshare UV light sensor
Type: ultraviolet UV light sensor
Embedded chip: LTR390-UV-01
Communication interface: I2C bus
Interface address: 0x53 (fixed)
Measurement of radiation with wavelength range: 280 nm to 430 nm
Operating voltage range: 3.3 V / 5 V
Mounting hole diameter: 2 mm
Module dimensions: 27 x 20 mm
Kit contents
UV light sensor - LTR390-UV I2C - Waveshare 20467
Dedicated connection cable - 5-pin