Description
Sound sensor module equipped with a digital output. Works with a voltage of 5 V. Allows fordetermination of the volume or identifying characteristic sounds from the environment, for example clapping hands. It can be used, for example, as sonic switch light module for alarm management, etc.
Specification
Supply voltage: 5 V
The digital output signal
Four mounting holes with a diameter of 1 mm
Built-in potentiometer for adjustment of trigger level
Module dimensions: 33 x 16 mm
Inputs
The device has a 3-pin connector. The output signal can follow, for example, to the digital inputof the Arduino module.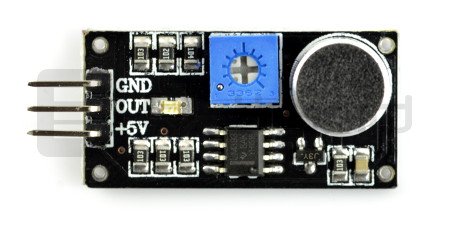 Inputs are marked on the reverse side of the board which facilitates the connection.
| Pin | Description |
| --- | --- |
| GND | The tround of the system. |
| OUT | The digital output signal, the sensitivity is adjusted using the integrated potentiometer. |
| +5V | Voltage: 5 V. |