Product description: PIR motion sensor ST07 - ceiling, surface-mounted
Ceiling PIR motion sensor , mounted directly on the plaster using the screws included in the kit. Made in the advanced technology of integrated circuits, it has a wide field of motion detection. It instantly detects human movement by emitting infrared rays in a detectable range of 360 ° . The sensor can work both during the day and at night. The motion detection range is adjustable from 3m to 12m . It is also possible to adjust the brightness in which the sensor is to react: from 3 lux to 2000 lux . The maximum lighting load with which the sensor works is up to 1200 W for a light bulb and up to 300 W for an energy-saving light bulb.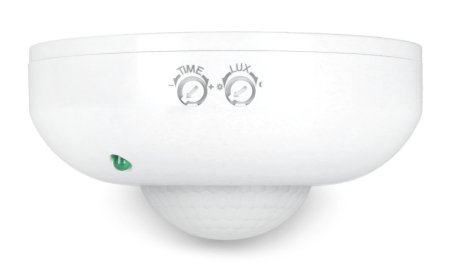 Motion sensor with dimensions 115 x 58 mm.
PIR motion detector specification
Operating voltage: 220 V to 240 V AC / 50 Hz
Maximum load: up to 1200 W (light bulb), up to 300 W (energy-saving light bulb)
Detection angle: 360 °
Ambient lighting: adjustable from 3 to 2000 lux
Detection range: 3 m to 12 m (24 ° C)
Detected speed of movement: from 0.6 m / s to 1.5 m / s
Switching time: adjustable 10 sec ± 3sec (min.), 7 min ± 2 min (max.)
Power consumption: 0.45 W (in operation), 0.1 W (in sleep mode)
Installation: ceiling, surface
Mounting height: 2.2 m to 4 m
White color
Protection degree: IP20
Dimensions: 115 x 58 mm
‌