Description
The module is equipped with 6-channel sensor of spectrum, i.e. the spectrum of visible light.It allows you to measure and to characterize how different materials absorb and reflect light waves. 6 channels can detect the colors: red, orange, yellow, green, blue and purple. It detects the wavelength range seen by the light of 450, 500, 550, 570, 600 and 650 nm, each with a 40 nm of full width of half of maximum detection.The sensor communicates using I2C and UART interface using AT command.Additionally, on board is a temperature sensor that can be used to read system's temperature and helpful LED with the power of 5700K, which is used to illuminate the objects.
Pins
Module AS7262 has two communication interfaces: I2C and serial. The default is the I2C interface. To use the serial interface, it is necessary to put tin on the UART SELECT jumper. For serial communication with the computer, use the USB-to-Serial converter.The board has 2x 7 pins for soldering the goldpin strap of 2.54 mm.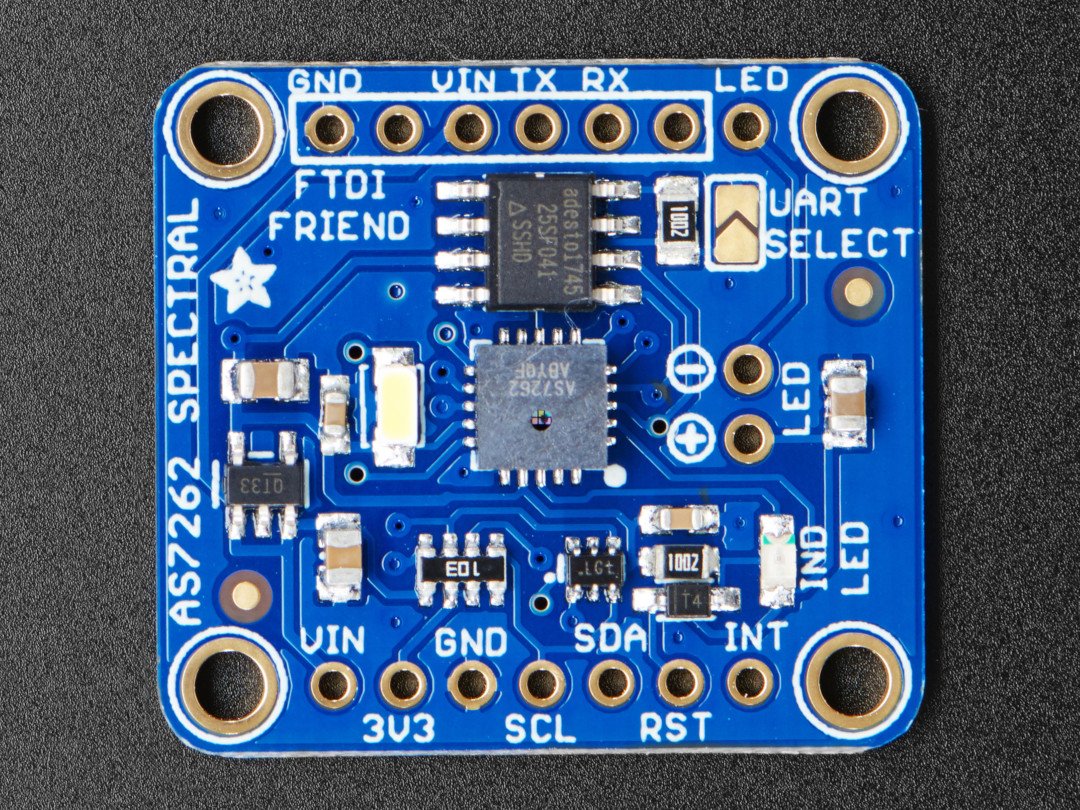 Pin
Description
Vin
Power supply from 3 V to 5 V.
3V3
Supply voltage is 3.3 V.
GND
The ground of the system.
SCL
Clock line of the I2C bus.
SDA
The data line of the I2C bus.
RST
Reset.
TX
UART interface - transmitter.
RX
UART

interface - 

receiver.
INT

The external interrupt, the sensor sends a signal after finished measurement (optional pin).
Specification
Supply voltage: 3 V to 5 V
6 visible channels:

450, 500, 550, 570, 600 and 650 nm

16-bit ADC with digital access
Programmable driver of LED diode
Temperature sensor
Communication interface: I2C and UART

2x 7 pins, pitch of 2.54 mm