Description: Smart Watch for children with ART LOK-1000P GPS locator
A watch for the little ones. Thanks to its set of features and possibilities it guarantees peace of mind for parents who always know where their child is and what he or she does. Smartwatch sends the location thanks todata transmissionby SIM card from GPS module with high accuracy. Dedicated application allows you to set upa safety zoneand every time you go outside it, it immediately triggers an alarm on the carer's phone. Additionally, there is an SOS button on the watch, which when held down also activates the alarm.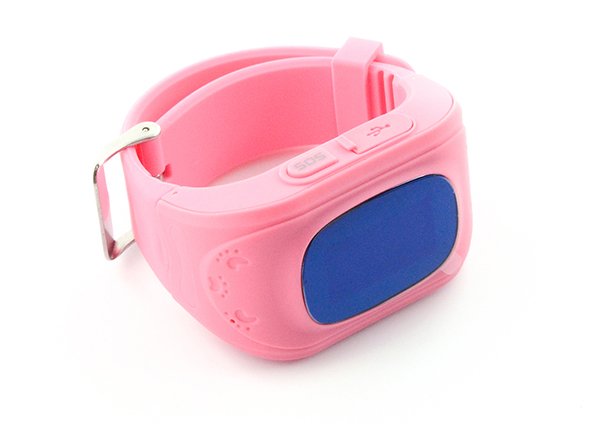 Children's watch with ART LOK-1000P GPS locator
The unit has a sensitive microphone for voice calls and for eavesdropping functions. The caregiver can use the application to start recording and eavesdropping on what is happening around the child at any time.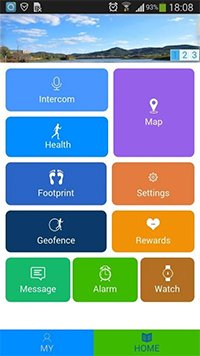 Se Tracker application for watch operation
Children's watch functions with ART LOK-1000P locator
GPS Locator- thanks to the GPS module, the watch allows you to keep track of your child's location, which the carer can control in real time using a dedicated application compatible with Android and iOS systems,
Safety zone alarm- the caregiver has the possibility to define the safety zone where the child is staying. When the resident leaves the designated area on the parent's phone, an alarm is activated (Geofencing),
Watch photo alarm- when the watch is removed from the hand after a few minutes an alarm will sound on the carer's phone,
SOS button- when held down, the alarm is activated on the carer's phone,
Eavesdropping- a tool for eavesdropping your child's environment. Activated by the application at any time, it records the sound and sends it to the application of the tutor,
Data transmission- the watch communicates with the caregiver's phone via a mobile network. Requires installation of a micro SIM card,
Crocometer- working in the background, allows you to track the number of steps performed during the day. This information is contained in the carer's application and on the watch display,
Sleep monitoring- measures sleep time, its quality (deep sleep, shallow sleep) and the amount and time of waking up. It automatically detects when you fall asleep based on your baby's movements tracked by the built-in 3D sensor,
Alarm clock- set by the tutor application,
Voice calls- possibility to call predefined phone numbers (buttons 1 and 2) and receive calls from these contacts. The watch blocks calls from other numbers.
Text messages- the device receives SMS messages from defined numbers. You can read them at any time by pressing one button. Messages are not saved.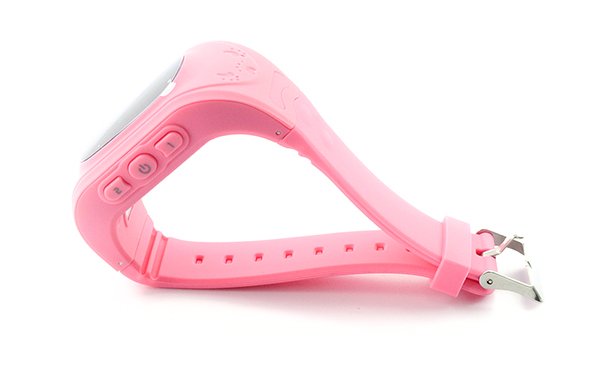 Watch function keys with ART LOK-1000P locator
Specification for the GSP ART LOK-1000P watch with locator
display: LCD 128*64 px / 0.98 inch
battery: 3.7 V 400 mAh polymeric
Standby time: up to 100 hours
the connection: USB
3D sensor
working temperature: -20 / +70 st. C
colour: pink
compatibility:
weight: 49 g
accessories:

instruction manual
USB charging cable
SIM card installation screwdriver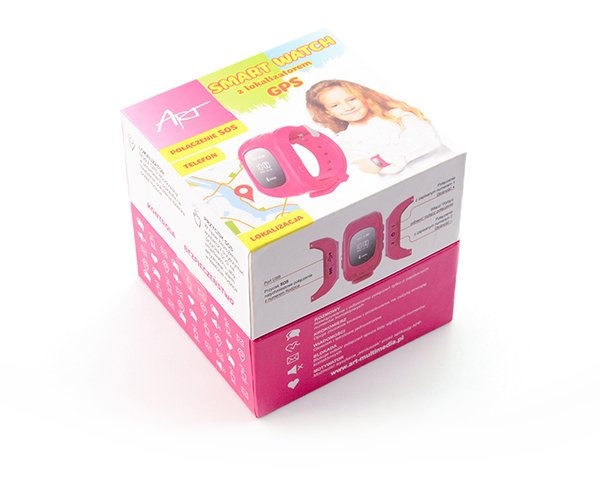 Watch package with GSP ART LOK-1000P locator