Product description: C-Back Driver HAT - servo driver overlay - STM32F0 - for M5StickC M5Stack development module
C-Back Driver HATis an extension for M5Stick series modules -M5StickCandM5Stick Plus. It is based on theSTM32F030F4P6chip, which allows to control the operation of up to 4 servos viaPWM. It uses anI2Ccommunication interface with address 0x38. It can be used for general logic level readout and analogADCinput signal. Additionally the cap has two holes, compatible with LEGO standard, with which you can easily fix the module to many surfaces.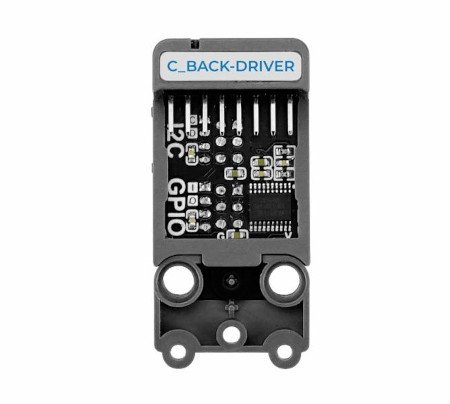 C-Back Driver HAT is equipped with GPIO and I2C connectors.
Features
Used in robot control applications
Used as a control element for servos
4-channel, allows control of four servos simultaneously
Supported programming platforms: Arduino
Equipped with two holes compatible with the LEGO standard
Contents of the kit
C-Back Driver HAT module - overlay with servo driver
Mounting elements:

M2 x 5 screws - 2 pcs.
Allen wrench
In our shop you will also find other extensions for theM5Stickdevelopment module, which will allow you to expand any project according to individual needs.
Technical Specification C-Back Driver
Add-on forM5StickCandM5Stick Plusdevelopment modules
Type: servo controller
Number of built-in drivers: 4
GPIO and I2C extensions
Operating voltage: 3.3 V to 5 V
Operating current: 15 mA
Communication interface: I2C bus
Interface address: 0x38
Module dimensions: 23.7 x 49.2 x 21 mm
Weight: 9 g