Attention!
The product has been discontinued. Check other products in category.
Description
The MEMS module allows you to measure acceleration in three axes in three-dimensional space. The device communicates via I2C bus. In addition, it has a built-in temperature sensor, embedded FIFO buffer and programmable interrupts that enable, i.a. the detection of free decrease.
The module has necessary for the correct operation of the system, passive elements. Pins are holes for soldering of the goldpin connectors(not included) that enable the connection of the the sensor viawires and directly attach to the breadboard,the module also has two connectors of Qwiic.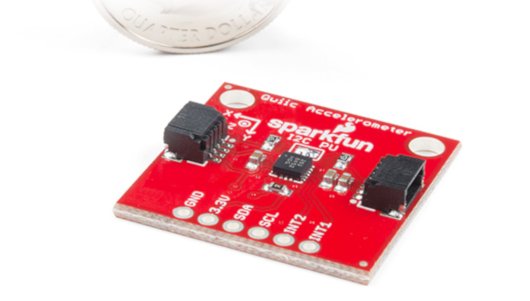 Since the maximum voltage with which the system works, is 3.3 V, to work with Arduinonecessary is a voltage converter. The exceptions are the modules, operating with voltages of 3.3 V, for example,Arduino Pro Mini 328 - 3.3 V/8 MHz.
Pins
The sensor has pins for mountinggoldpinconnectors - 2.54 mm pitch(not included, purchased separately and self-soldered).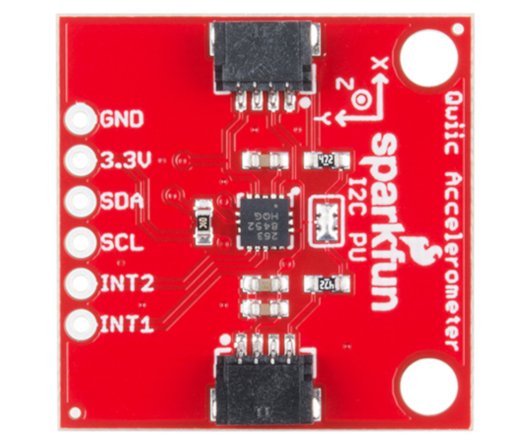 | Pin | Description |
| --- | --- |
| 3.3 V | Supply voltage from 1.95 V to 3.6 V. |
| GND | The ground of the system. |
| SDA | The data line of the I2C bus. |
| SCL | Clock line of the I2C bus. |
| INT | The interrupt signal. |
| INT | The interrupt signal. |
Specification
The supply voltage: 1.95 V - 3.6 V
Current consumption: up to 165

µ

A
Communication interface: I2C
Measuring range:

±2g, ±4g, ±8g

Output data speed: from 1.56 Hz to 800 Hz

Digital output: 8-bit and 12-bit

Two programmable interrupts for six sources

Three embedded channels of motion detection

The definition of orientation

Interface of the 0x1D address: 0x1C
Board sizes: 26 x 26 mm