Attention!
The sale of the product has been completed. Check others in thiscategory.
Description
Low powerIoT(Internet of Things)long-range communicationmodule. It uses theSAMD21microcontroller andRFM95Wradio module to create point to point connections. Each pin on the module has its own grounding which makes it easy to connect, for example, LEDs or buttons.
The range, using a simple several-centimetre cable soldered into the ANT pin, is about 1.5km infree space, however, it is possible to connectalargerantenna via au.FLplug, which will providea much larger range depending on the antenna used.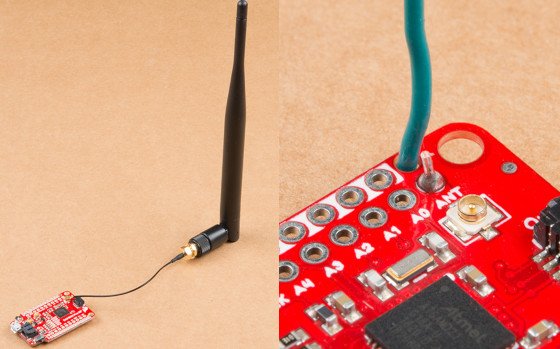 On the left, the connection of an external antenna via the u.FL. connector,
on the right, the cable soldered to the ANT pin which acts as an antenna.
On the board there is also a power on/off switch and a 2-pinJSTconnector enabling power supply from ali-polbattery.In case of connecting the power supply viamicroUSBcableandswitching the power to OFF, the module will charge the battery with 500 mA. The product is fully compatible withArduino,there is also a LoRa library with a set of all instructions for creating IoT connections. Besides, after closing two jumpers on the inner part of the module, it is possible to switch it into LoRaWAN modeallowing to connect sensors or other devices to the Internet through the module.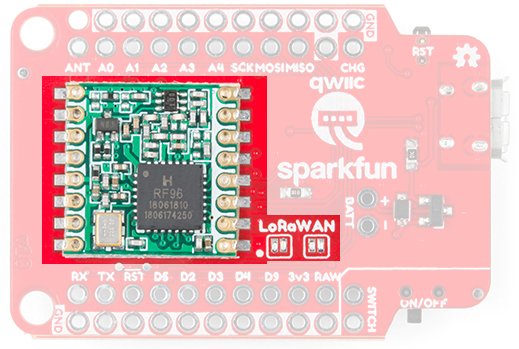 LoRaWan jumpers.
Output description
| PIN | Description |
| --- | --- |
| RAW | Additional power supply max. 6 V |
| GND | Grounding |
| 3v3 | 3.3 V output |
| RST | 3.3 V output |
| D2, D3, D4, D5, D9 | Digital I/O pins |
| A0, A1, A2, A3, A4 | Analogue I/O pins |
| RX/TX | Serial ports |
| MOSI/MISO/SCK | SPI |
| ANT | Antenna for radio module |
Specification
Manufacturer: Spark Fun
Microcontroller: SAMD21
Radio module: RFM95W
Radio frequency: ISM 915 MHz
Power supply voltage:

microUSB: 5 V
Battery: up to 6 V
Pin RAW: up to 6 V

Recommended battery: Minimum 500 mAh Li-pol
Current consumption: 3 to 17 mA