Product description: Wireless stereo receiver WiFi/Bluetooth 5.0 - Arylic Up2Stream Pro V3
Arylic's wirelessstereo receiver. Compatible with phone, computer and tablet. The receiver, combined with the speakers, provides the highest quality of sound reproduction. Equipped with microUSB sound card,so it can work as a digital-to-analog converter connected directly to the computer.

Arylic stereo receiver module.
The module has SPDIF output,ADC buttons and 2 inputs/outputs for expansion (e.g. volume potentiometer).It supports a wide range of music platformsincluding Spotify,Pandora,Amazon Music,Tidal,Deezer,Qobuzand Internet radio. It also plays local music shared via NAS or USB stick.
The manufacturer offers a free 4stream mobile application,dedicated to the Up2stream V3 series. With this application you can easily change your WiFi SSID and enter another Bluetooth name. The application also allows you to use EQ Control function to customize the receiver to your individual needs.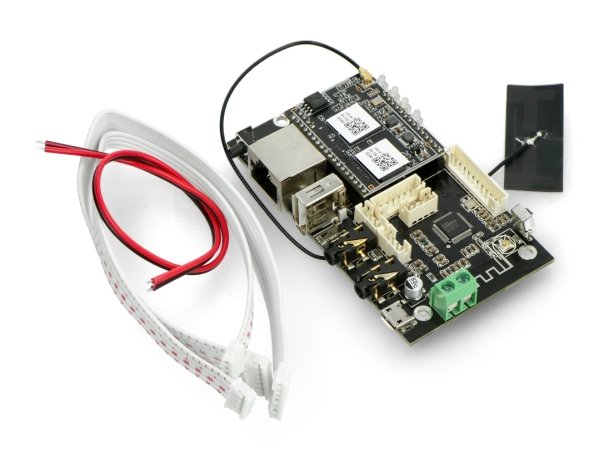 Set contents for the receiver module.
Technical specifications
Wireless network: 2.4 GHz IEEE

802.11 b / g / n

Ethernet: Single

10 / 100 M RJ45

Bluetooth: 5.0, SBC / AAC

USB host: yes

Bluetooth range: 10 m
Power supply: DC 5 V / 1A
Power input

3.5 mm / 4-pin analog connector
Digital IIS
SPDIF

Frequency response: 20 Hz 

to 20 kHz

Audio input:

2.5 mm / 4-pin analog / microUSB 

connector

SNR: 91 dB

THD: 0.03%
Music format: FLAC

/ MP3 / AAC / AAC + / ALAC / APE / WAV

Decryption: 

up to 24 bits / 192 kHz

Dimensions: 87.6

x 49.6 x 15 mm
Attention!
The module requires aDC 5 V / 1 Asupply. Higher voltage may damage the board.
Set contents
Receiver module

7-pin cable
4-pin cable
2-pin plug cable
WiFi antenna