Product description: Grove E-paper E-Ink 1.54" 152x152px - display module with tri-colour TFT for Arduino
Module with three-colorelectrophoreticdisplaywith1.54"TFT e-paper active matrix with a resolution of 152 x 152 px and DPI 140 . 1-bit screen with the possibility of displaying white, black and 1-bit red. The screen has a lowpowerconsumptionof3.3 V to 5 V and wideviewingangles. Thanks to the clear display, it is used as a shelf label and as part of industrial equipment. Theset includesthe Grove cable.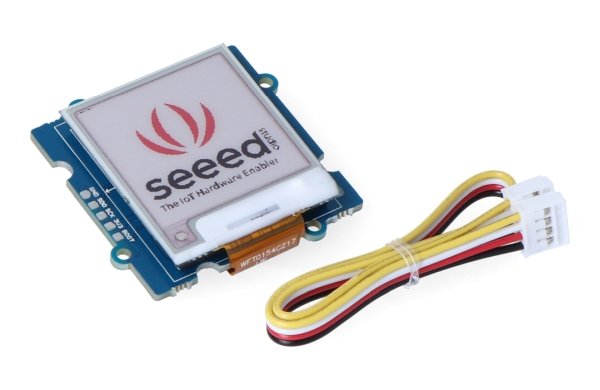 Grove E-paper E-Ink 1.54" 152x152px - display module with three-color TFT for Arduino
Too much refresh rate will cause irreversible damage to E-ink. The manufacturer recommends that the frame rate should be more than 180 sec.
An interesting feature of this display is thatit displays the memorized imageeven if it is not connected to the power supply. Grove E-paper is a part ofthe Grove system, a standardized modular prototyping system. It is characterized by simplicityincreating new circuits, thanks to the use of Gorve connectors and dedicated Shield.To create a project you will not need soldering skills, just connect the module and microcontroller of Arduino type. The manufacturer has prepared a sample program and installation instructions for the screen from Arduino, all available at this link.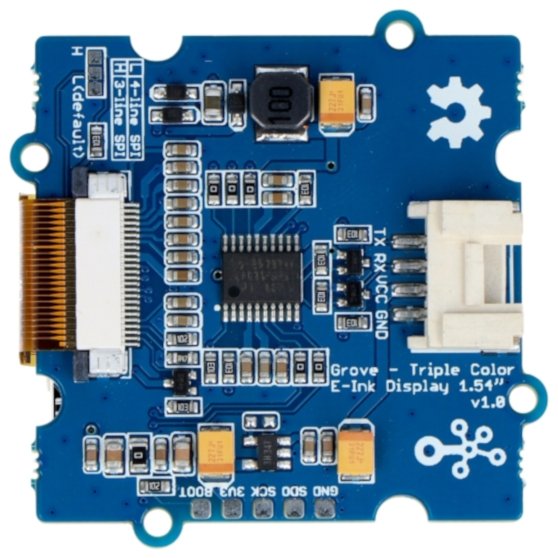 Features of the module with three-color Grove E-Ink 1.54" 152 x 152 px display.
High contrast

High reflectivity

Ultra-wide viewing angle

Very low energy consumption

Built-in RAM
Technical Specification E-paper Grove - 1.54" TFT display in three colours
Parameter
Scope
Supply voltage
3.3 V to 5 V

Working temperature

0 to 40℃
Storage temperature
from -25 to 60℃
Moisture range
40 to 70 % RH
Screen resolution
152(H) x 152(V) px
DPI
140
Interface
UART
Transmission speed from Arduino
230400