Description
Minicomputer Khadas VIM1 Basic with an efficient processorAmlogic S905X octa-core 64-bitARM Cortex AM53 1.5 GHzand GPUARM Mali 450. It has2GBDDR3 RAM,8GB of memory eMMC, integratedwi-fiandBluetooth 4.2, and2x USB 2.0 OTGtype A and oneUSB type-C connector,40 GPIO, microSD card connector,Ethernet port,HDMI, IR receiver and three buttons. The kit also includes a USB cable, type C.
Operating systems
Minicomputer Khadas VIM2 works with the systemsAndroid, AndroidTV, LibreELEC, Ubuntu, DualOSandU-Boot. The system can be uploaded to the cardmicroSDor on the internal memory of minicomputer.
Operating systems can be downloaded from the manufacturer's website.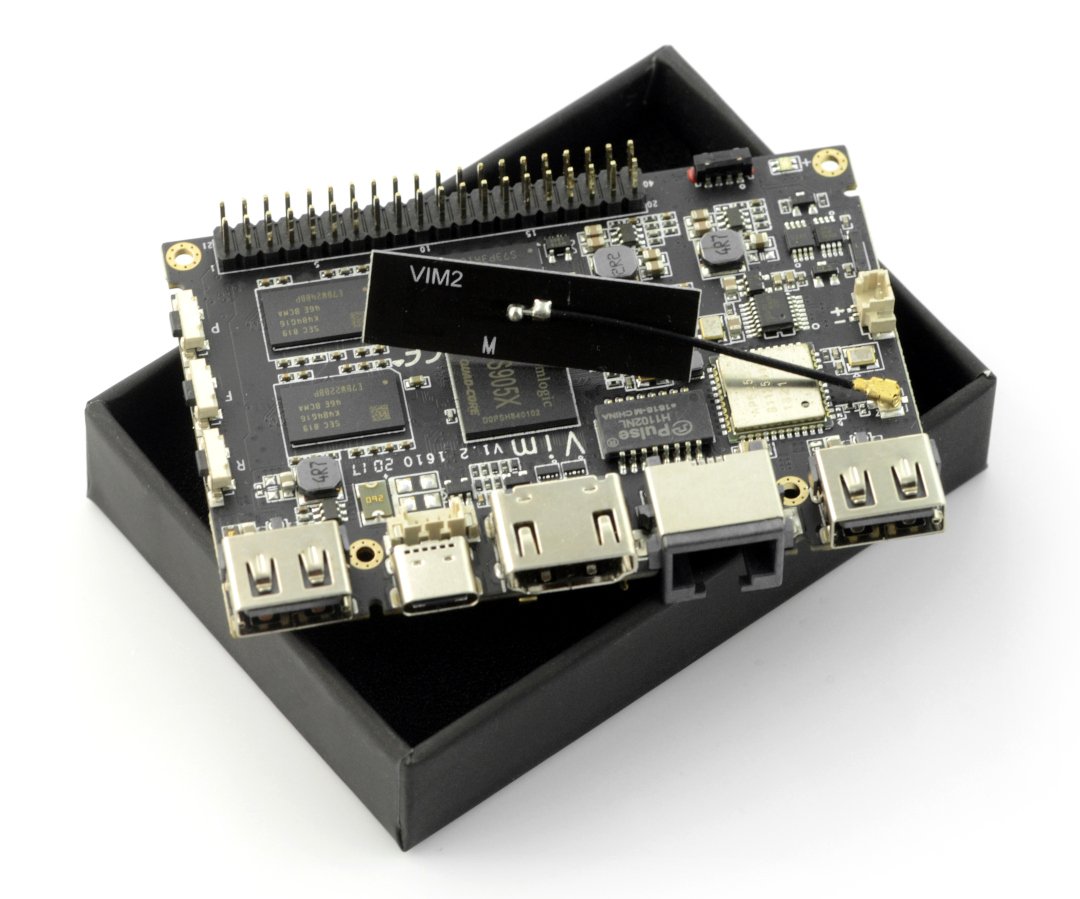 What it takes to run minicomputer Khadas?
Communication
Minicomputer has communication interfaces that can be found in computers of PC class. The user has at his or her disposal:
two USB A connectors+USB type-C, to which can be connected, for example, a mouse, keyboard or USB flash drive. If you find that the slots are too short, you can increase their number usingan external USB HUB.
Ethernet slot, that is, the ability to directly connect to the network.
the wi-fi moduleallows communication with wireless network

802.11 b/g/n/ac.

Bluetooth 4.2 -enables data transmission through interface.
GPIO x 40 pin -

outputs/inputs with general purpose that can be used to control the LEDs, buttons, drivers of engines. Among them are the pins supporting interfaces: I2C, I2S, SPDIF, UART, PWM, ADC, ISO7816, IOs.

a slot for microSD

 - slot for memory card microSD, on which can be installed the operating system.

HDMI connector

- it transfers image to the monitor.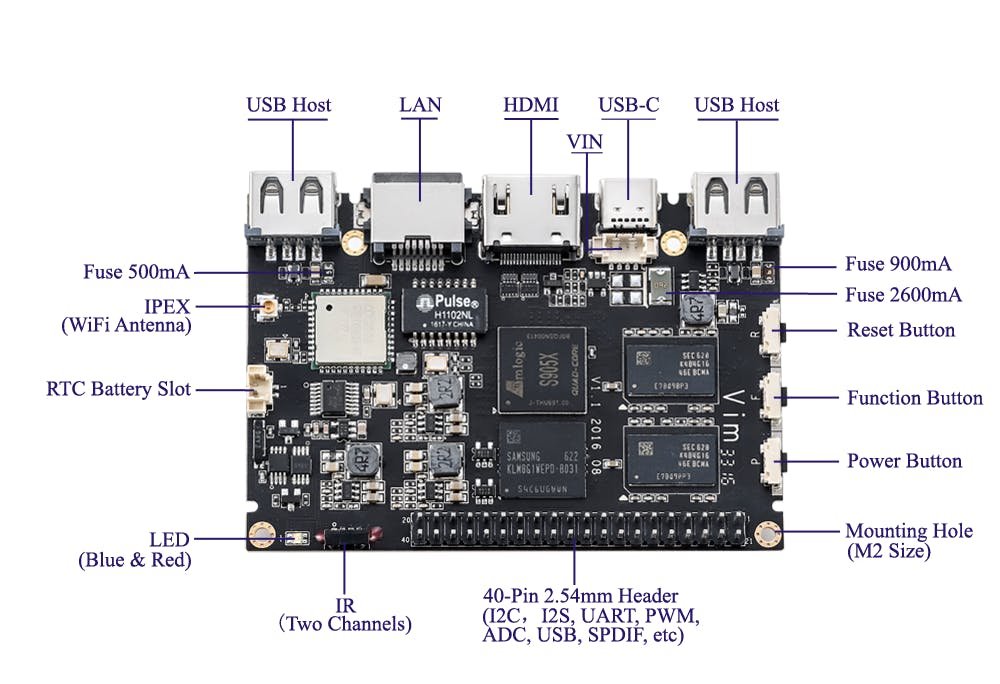 Power
As a power source, the system uses a USB connector, type C. The manufacturer recommends that the voltage indicated on the plug had a value of 5.0 V and an output current of the used adapter shall not be less than 2.0 A. In our assortment, you will findpower supplies that meet these parameters, for example:the Extreme power supply 3.1 A.

Specification

Model
VIM1 Basic
Specification

Processor

Amlogic S905X

The core

Quad-Core ARM Cortex A53

Graphic processor

ARM Mali-450

Systems

Android, AndroidTV, LibreELEC, Ubuntu, DualOS, U-Boot

Clock frequency
1.5 GHz
RAM

2GB DDR3 64-bit

Memory

8 GB eMMC

microSD card

GPIO slot

40-pin GPIO

Power

5 V / 2 A USB type-C

Tile sizes
82 x 57.5 x 11.5 mm
Interfaces
USB Host

2x USB 2.0 type A

Network interface
Ethernet
The Wi-Fi interface
wi-fi 

module

 

802.11 b/g/n with antenna

Bluetooth interface
Bluetooth 4.2
Video
HDMI 2.0a, 4K 60fps
Audio

HDMI

Communication

UART, I2C, GPIO, I2S, PWM,SPDIF, ADC, ISO7816, IOs

Infrared

2 channels IR

Buttons

1x Power

1x Functional

1x Reset

Others

status LEDs

Included

USB cable type C