Product description: Fermion analog MEMS microphone module - DFRobot SEN0487
A microphone module with MEMS technology manufactured by DFRobot. The device has an analogue signal on the output and is powered by 3.3 V / 5 V, so that the module can be used with all controllers working with this voltage. The signal to noise ratio (SNR) is 59 dBA and the sensitivity is -42 dB. In addition, a 1x3 goldpin strip - 2.54 mm raster - is also included.
MEMS technology - what is it?
What is MEMS? MEMS is a technological standard used in the classification of microphones. This term is used for professional, miniature and discreet microphones. These modules are characterised by small dimensions while maintaining very high sound quality. They are also characterised by a large dynamic range and low SNR. They find their application in eavesdropping devices or scenarios where it is necessary to conceal the microphone.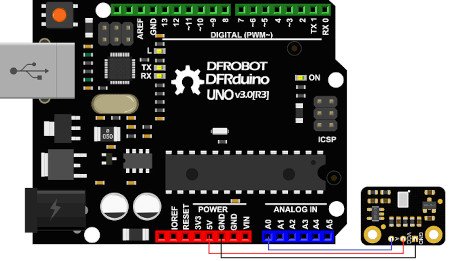 Connection diagram of MEMS microphone module with DFRduino board - the board is not part of the kit and can be purchased separately.
Pinouts and connection diagram
GND - system ground
VCC - power supply
A - analog signal output pin
On manufacturer website you can also find user guide, which makes it easier to start working with module. You will find there instructions for connecting the module with the controller board, sample program code and other useful information.
Technical specifications of the microphone module
Signal type: analogue
Technology: MEMS
Directionality: omnidirectional, omnidirectional microphone
Sensitivity: -42 dB
Signal to noise ratio (SNR): 59 dBA
Frequency response: 100 Hz to 8 kHz
Supply voltage: 3.3 V / 5 V
Module dimensions: 18 x 12.5 mm
Set contents
Fermion - MEMS analog microphone module
1x3 goldpin strip - 2.54 mm pitch