Product description: Audio amplifier NJM2073D 2 V - 15 V 1 W
A set to build a two-channel audio amplifier based on theNJM2073D chip, which allows you to connect a speaker of up to 1 W per channel. The kit includes two 8 ohm0.5 Wspeakers, a clipfor 9 V batteries,a 3.5 mm jack cable and smallelectronic components necessary to build the amplifier. The assembly of the set requires soldering of the elements threaded onto the PCB. The whole can be poweredfrom 2 V to 15 V DCbut at low voltage the maximum volume level will be significantly reduced. The board has dimensions of 58 x 35 mm.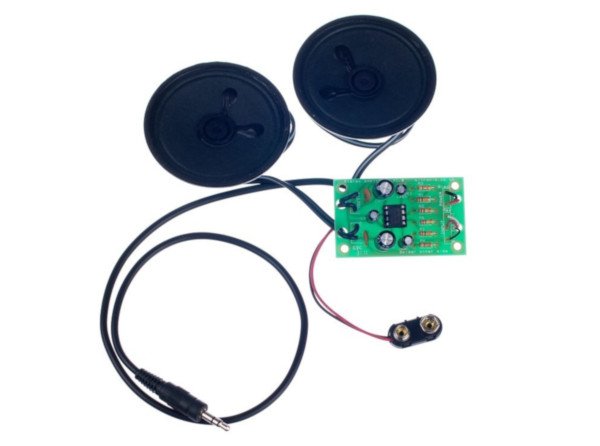 The manufacturer has prepareddidacticnotes which greatly facilitate learning and building the set. To assemble the module it is necessary to usea soldering iron, instructions on how to solder THT elements correctly are included in the didactic notes.
The set includes:
1 piece. - Audio amplifier NJM2073D
1 piece. - DIP chip holder
2 pieces. - 10 kΩ resistor
2 pieces. - Resistor 4.7 Ω
2 pcs. - Resistor 100 kΩ
2 pieces. - Ceramic capacitor 50 V 100 nF
2 pieces. - Electrolytic capacitor 16 V 470 uF
2 pieces. - Electrolytic capacitor 25 V 100 uF
1 piece. - Electrolytic capacitor 16 V 10 uF
1 piece. - Speaker cable 100 cm
2 pieces. - 8 Ω 0.5 W speaker
1 piece. - 3.5 mm jack cable 50 cm
1 piece. - PCB
Audio amplifier specification NJM2073D 2 V - 15 V 1 W
Power supply: 2 V to 15 V
The deal: NJM2073D
Output power: 2 x 1 W
Plate dimensions: 58 x 35 mm