Product description: Wireless charging module - 5 V / 2 A - DFRobot DFR0712
Apower modulemanufactured by DFRobot that useswireless charging technologybased on magnetically coupled resonance. The module has a fairlysimple circuitand contains a high current wireless power supply circuit. The input voltage to be supplied to the transmitting module is12 Vand the receiver generates an output voltage of5 V / 2 A. Such values are applicable forsmall electronic components. The module can be used for DIY wireless power supply, to power phones (supporting inductive charging technology), portable devices or sensors working with voltage of5 V.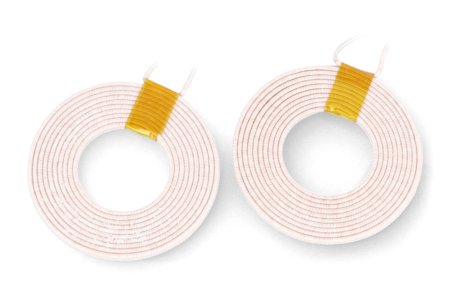 The thickness of the transmitting coil and the receiving coil is 2.3 mm and their diameter is 43 mm.
Wireless charging
The module from DFRobot uses anelectromagnetic fieldto transfer energy between two objects within a range of3 mm to 6 mm. The device can also charge the battery through the material such as paper, plastic into which it can be built. The transmission efficiency can reach up to90%. In addition, the magnetic field that the module uses has similar properties to the Earth's field, so it will not affect the human body or other devices in the vicinity.
Contents of the set
Transmitter module - 1 pc.
Receiver module - 1 pc.
Technical specification
Input voltage: 12 V
Maximum output voltage: 5 V
Maximum output current: 2 A
Optimal receiving distance: 3 mm to 6 mm
Leads: wires with removed insulation
Connection of wires:

red wire - power supply
black wire - ground

Dimensions of transmitting coil:

external diameter 43 (± 2) mm
thickness: 2,3 mm

Dimensions of receiving coil

outer diameter 43 (± 2) mm
thickness: 2,3 mm

Dimensions of transmitter module: 18 x 8.5 x 15 mm
Dimensions of receiver module: 10 x 25 x 3 mm