Description
GroveWi-Fimodule based on aESP8285 system with built-inTCP/IPand supportAT commands. It supports the most popular protection, such asWEP, WPA/WPA2, TKIP, AES and WAPI. It can also work as anAccess Point with DHCPor serve as aconnection for two other Wi-Fi networks.It also has the possibility ofconfiguring the MAC address and IP.It is supplied with the voltage from3.3 V to 5.5 V. It communicates with the microcontroller throughUART interface. The kit includes a cable adapted to SeeedstudioBase Shield v2.0.The manufacturer provides on its website detailed instructions, along with sample source codes forArduino.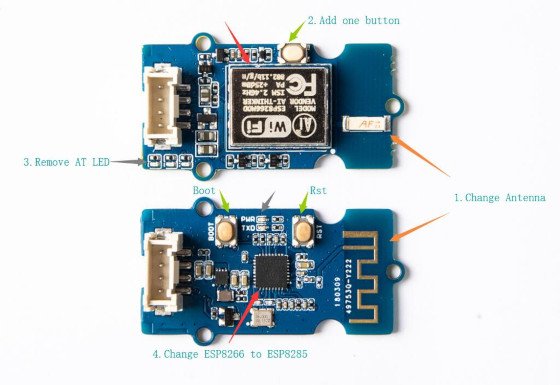 Comparison with the previous version.
Outputs
The system has four outputs on a special connector from the Grove series, cable to which is included in the kit.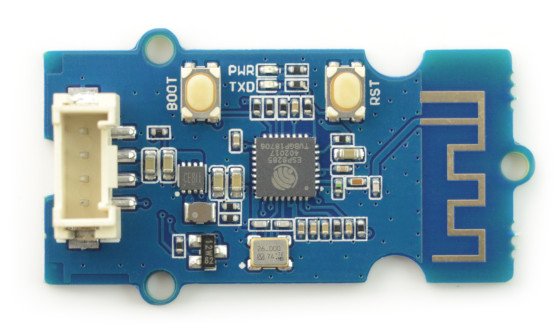 Pin
Description
VCC
Supply voltage: from 3.3 V to 5.5 V.
GND
The ground of the system.
TX
Transmitter UART interface.
RX
Receiver

 UART interface.
Specification
System Wi-Fi: ESP8285 ESP-07
Support AT command
Built-in antenna
Protocol:

802.11 b/g/n (2.4 GHz)

QoS

Interface: UART
Capacity: 11520 bit / s
Memory: 1MB
Supply voltage: from 3.3 V to 5.5 V
Dimensions: 40 x 20 x 7 mm
Weight: 3.4 g