Product description: Cable Rebel 3 in 1 USB type A - microUSB, USB type C, Lightning - black, braided material - 1 m
3 in 1cableRebel brand in ablack braidedmaterial. The product has a length of1 m. It is equipped with a USB Type A input connector, which further branches into three separate cables ended with amicroUSBplug,LightningandUSB Type C. It is only used tochargeyour devices. Supports up to three devices simultaneously. Can be used to charge popular mobile devices, such as smartphones and tablets equipped with appropriate sockets. The material braid protects against damage and tangling. It will prove useful both at home and during travel.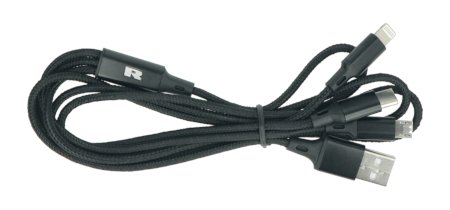 Connectors used in the Rebel cable.
Specifications of the Rebel 3 in 1 cable
Output connectors:

USB type C male
microUSB male
Lightning male

Input connector: USB type A male
USB 2.0 standard
Charging function for compatible devices
Material: TPE + nylon
Connectors: TPE + aluminum
Cable length: 1 m
Color: black