Product description: Eura-tech smoke detector SD-10B8
A sensor fordetecting smokein closed spaces. When smoke is detected in the air, it alarms with aloud acoustic signaland anoptical signalwith anLED. It is powered by one9 V battery. The product has been tested to the relevant standards in the renowned European laboratory BRE Global Limited Icorporating LPC Testing in the UK.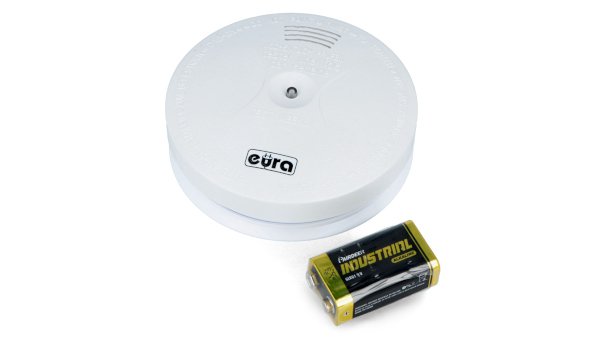 Smoke detector Eura-tech.
Smoke detector specification
Power supply voltage: 9 V (battery included)
Type: photo-optic
Type of detection: smoke
Power consumption:

Standby: up to 10 μA
alarm: 20 mA

Recommended installation location: ceiling, indoor
Max volume level: 85 dB / 3 m
Detection range: 20 to 25 m2
Protection factor: IP20
Test button
Operating temperature: -10°C to 50°C
Sensor dimensions: ø107

x 35 mm

Weight: 130 g