Attention!
The product has been discontinued. Check others products incategory.
Description
Sensor-based on systems BME280 and Si1132 to measure temperature, humidity, pressure, light and UV-light. The module is powered with the voltage from 1.75 to 3.6 V, communicating through the I2C bus.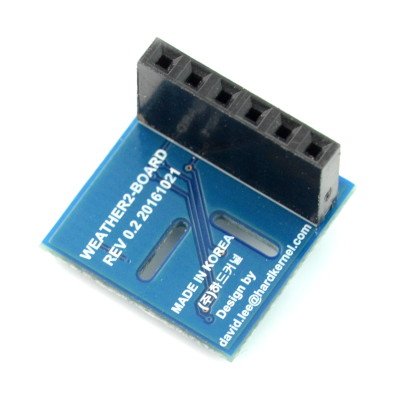 The module has necessary, for the correct operation of the system, passive elements. The pins are the popular female goldpin connectors, for connecting the sensor viawiresor directly in a dedicated shield.
The product is compatible with Odroid
The library and the scheme of  the connection with the Odroid can be found atthis address.
Specification
Supply voltage:

from 1.75 to 3.6 V

Applied systems:
Communication interface: I2C
Measured parameters:

Temperature: - 40 °C to 85 °C
Humidity: 0 %Rh to 100 %Rh
Pressure: from 30 000 PA to 110,000 PA
Level of illumination: 1 lux up to 128 000 lux
Measurement of UV index: from 0 to 10

Board sizes: 17 x 17 x 11 mm
Soldered pins
Communication
The system can be combined with the central unit via the I2C bus. The module has 6 pins at soldered female goldpin strap.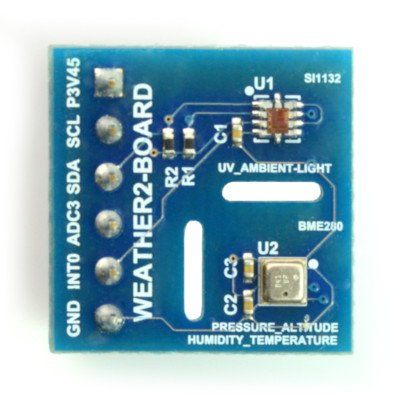 | | |
| --- | --- |
| Name | Description |
| VDD | The supply voltage from 1.75 to 3.6 V. |
| SCL | Clock line of the I2C bus. |
| SDA | The data line of the I2C bus. |
| AD3 | Do not connect |
| INT0 | The interrupt's output. |
| GND | The ground of the system. |