Description: Black Warrior ICE Tower CPU Cooling Fan - Heatsink fan for Raspberry Pi 4B/3B+/3B - black.
The fan in black is designed for cooling Raspberry Pi4B/3B+/3B, is additionally backlit withRGB diodeand has a large multi-layer heat sink built in. It is powered by5 V. It can lower the temperature from80°C to 48°Cusing the thermally conductive tapes included in the kit.
Main features of the fan:
Works with Raspberry Pi4B/3B/3B+
It is powered by 5 V
Cools perfectly
Ice tower structure
Rated power 0.4 W at 5 V, 0.08 A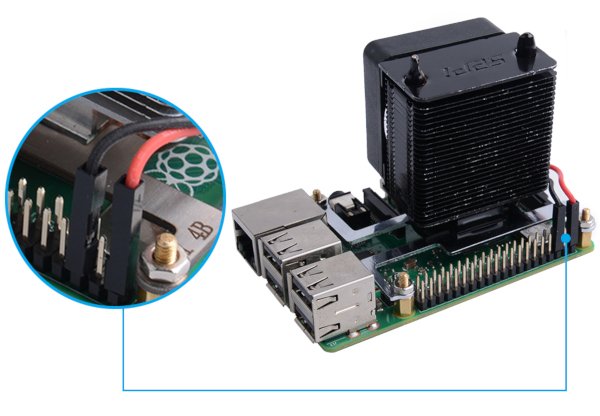 Connection with Raspberry Pi.
Proper connection of the fan
Connect the fan leads to the GPIO port of the Raspberry Pi minicomputer as shown in the attached picture.
The kit contents:
1x fan for Raspberry Pi 4B/3B/3B+
2x steel mounting brackets
1x screwdriver
Copper distances M2.5
Mounting screws and nuts M2.5
3x thermal conductive tape
1x Raspberry pad Pi
Manual
Attention!
The saledoes not includeRaspberry Pi. It can be purchased separately in ourshop.
Heatsink fan specification for Raspberry Pi
Colour: black
Power supply: 5 V DC
Current consumption: 0,08 A
Power: 0.4 W
Backlighting: RGB
Dimensions: 41 x 58 x 35 mm