Attention!
The product has been discontinued. Check other products in category.
Product description: SparkFun Thing Plus - RP2040 - SparkFun DEV-17745
A small board based on theRaspberry Pi RP2040microcontroller with a dual-coreARM Cortex M0+clocked at133 MHz. Equipped with 16 MB of flash memory, 264 kB of SRAM, 6 IOs for SPI Flash, 30 GPIOs and USB Host. Additionally, the board has amemory cardslot, a JST connector with charging circuitry for battery connection, and a built-inWS2812addressable RGB LED and Qwiic connector.
The RP2040 can be programmed in C/C++ and MicroPython. It has UF2 booting and floating point routines built into the chip. Despite the large RAM, the board has an additional 16 MB of QSPI Flash memory to store the program code.
The board is equipped with a Qwiic connector, which allows easy connection of modules and sensors equipped with the same connector, with an I2C interface.
Manufacturer prepared
user guide
for SparkFun Thing Plus module.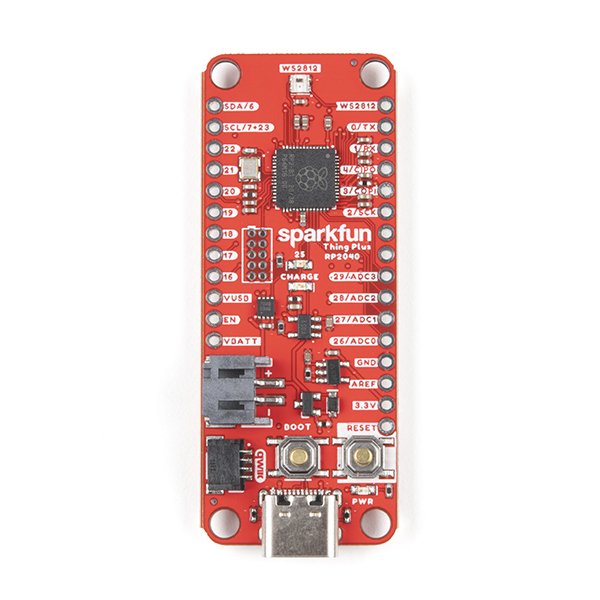 SparkFun Thing Plus.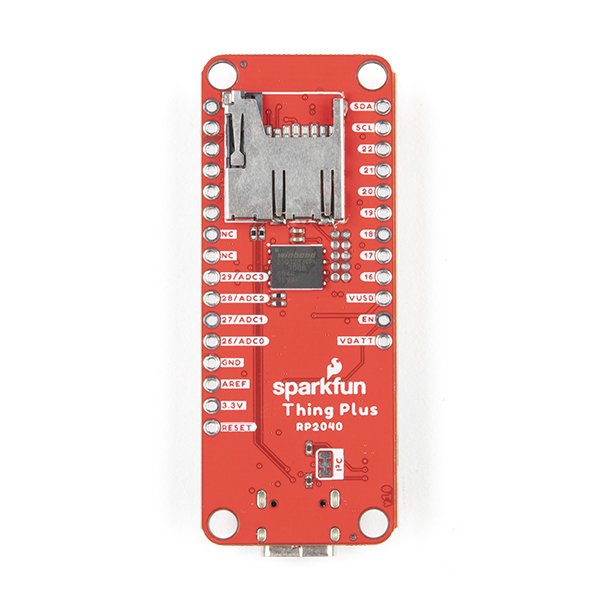 SparkFun Thing Plus with RP2040 chip.
SparkFun Thing Plus specifications
Chip: Raspberry Pi RP2040
16 MB Flash QSPI memory
JTAG PTH pin
Thing Plus:

18 multi-function GPIO pins
4-channel 12-bit ADC with built-in temperature sensor (500 kSa/s)
up to 8 2-channel PWM
up to 2 UART
up to 2 I2C
up to 2 SPI

USB C connector
2-pin JST connector for Li-Pol battery with 500 mA charging circuit
Qwiic connector
Buttons:
LEDs:

PWR: 3.3V power status - red
CHG: battery charge status - yellow
25: status / test of the built-in diode - blue (GPIO25)
WS2812: addressable RGB LED (GPIO08)

Four mounting holes
Dimensions: 58.4 x 22.8 mm
RP2040 chip specifications
Dual-core ARM Cortex M0+ clocked at 133 MHz
264 kB SRAM on board
6 dedicated IO for QSPI Flash
30 programmable IO
SWD interface
Timer with 4 alarms
Real time clock (RTC)
USB 1.1 Host / Device functionality
Supported programming languages: C/C++ and MicroPython