Attention!
The product has been discontinued. Check other products in category.
Description
Board that allows you to power the Arduino module using the battery LiPol 1S 3.7 V Built-in transducer provides a stable voltage of 5 V. The module uses three chips: MAX17043G+U (documentation) - monitor of state of charge, MCP73831T (documentation) - charger  TPS61200DRCT (documentation) - converter step-up.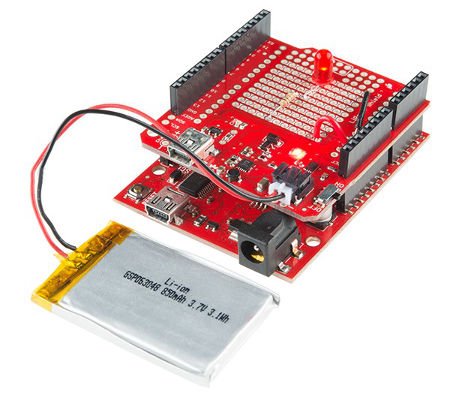 The Arduino board and lithium-polymer rechargeable batteries can be purchased separately.
Built-in battery charger
The system also has battery charger LiPolwith a current of 100 mA powered via the miniUSB port. After adding the resistor, the charging current can reach to 500mA.
Monitor of discharge
Monitoring the state of charging of the battery is carried out through the system MAX17043G+U connected to the I2C bus (pins A4 and A5). It has a configurable alarm which warns about reducing the power below 32 %.
Specification
The input voltage:with LiPol rechargeablebattery 1S 3.7 V
Output voltage: 5 V
Maximum current: 600 mA
The module is compatible withArduino Shield, it works with i.a. Arduino Uno,Arduino Leonardoand derivatives
Built-in charging system of a LiPol battery via mini-usb cable
Current of the charger: 100 mA (after modification 500 mA)
Built-in monitor of discharge of the rechargeable battery on the I2C bus: pins A5 and A5 of the Arduino
Used chips: