Product description: BleBox SwitchBox Light - 230V WiFi relay - Android / iOS application
Ready-made brand moduleBleBoxwith small dimensions, which allows you to remotely control home appliances with230Vvoltageand up to 1150Wpower. It is controlled usingWiFinetwork via a mobile device app from anywhere in the world. The device hasscrew connectorsfor mounting cables. Thanks to the small dimensions of the device, it can be hidden in a flush-mounted box. BleBox SwitchBox Light can also be easily integrated with Google Home and Amazon Alexavoice assistants, as well ashome automation systems: Domoticz and Home Assistant.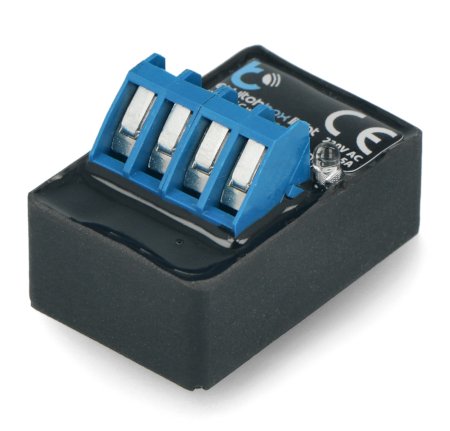 BleBox SwitchBox Light - smart home controller.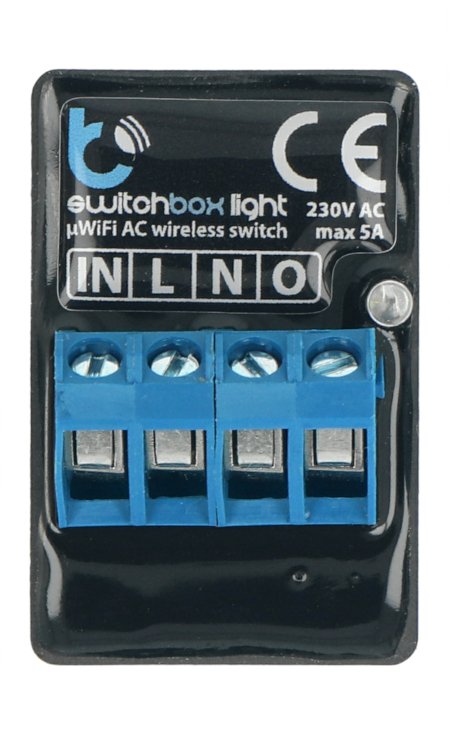 Connections of BleBox SwitchBox Light smart home controller.
Smart home controller BleBox - connection diagram
Before installing a smart controller make sure that the circuit has been disconnected from the power supply. The device should be mounted in a place protected from external conditions and access of third parties. Home appliances controller for intelligent home system BleBox Switchbox Light can also be controlled by monostable switches (momentary / bell) and bistable (traditional). Controller module has four outputs in the form of screw connectors, where you can connect the wires with a screwdriver:
IN- connector for connecting an external monostable or bistable switch, the second line of the switch should be connected to the neutral line of 230 V, marked N.
L- 230 V power supply, phase wire.
N- 230 V power supply, neutral wire.
O- voltage output of relay, for connecting controlled device.
Controller BleBox SwitchBox Light - configuration
After proper connection of device and power supply, controller should be configured. For this purpose, connect to the wireless network of the device named "swtichBox-xxxxxxxx" where "xxxxxxxx" is the serial number of the device, then using thePlay storeorAppStoredownload the applicationwBox - control everything. After running the application at the top of the screen you will see the device, next to the name there will be a "+" sign. To pre-configure the device, click on the default device name and then click on the gear icon in the upper right corner. The device can also be configured using a web browser by typing the IP address of the controller into the search address.
BleBox SwitchBox Light controller specification
Supply voltage
230 V AC
Power consumption
up to 1 W
Number of control outputs
1
Type of control outputs
relay
Maximum load
5 A
Maximum power
1150 VA (i.e. for 1150 W resistive load e.g. heater)
Number of inputs
1
Input type
Logic, pushbutton, shorted to N, configurable
Supported push buttons
monostable (bell), bistable (traditional, cross) - without backlight
Enclosure
made of polyurethane composition, halogen-free, self-extinguishing, thermal class B (130°C)
Mounting method
in a flush mount box (recessed or double), in a receiver housing, e.g. a lamp, heater, etc.
Degree of protection
IP20
Transmission type
Two-way, encrypted
Transmission frequency
2.4 GHz
Communication standard
μWiFi, compatible with 2.4 GHz WiFi
Operation mode
Direct connection (as an Access Point), WiFi connection via standard router, connection with access from anywhere in the world (only Internet access required)
Compatible devices and systemsApi
Apple iPhone, Apple iPad, iPad Mini, Android, computers and mobile devices supporting HTML5
Encryption
WPA2-PSK and authenticated encryption (AEAD)
API
open
Dimensions
25 x 39 x 24 mm