Description
Complete module for controlling one household device from 12V to 24V and 230V and an electric current up to 1 kW via Wi-Fi network using the smartphone app from anywhere in the world. In order to use BleBox, you just need to set up the device in a web browser. The device has screw terminal block connector for connecting the wires. The module operates with a power supply of 12V to 24V DC.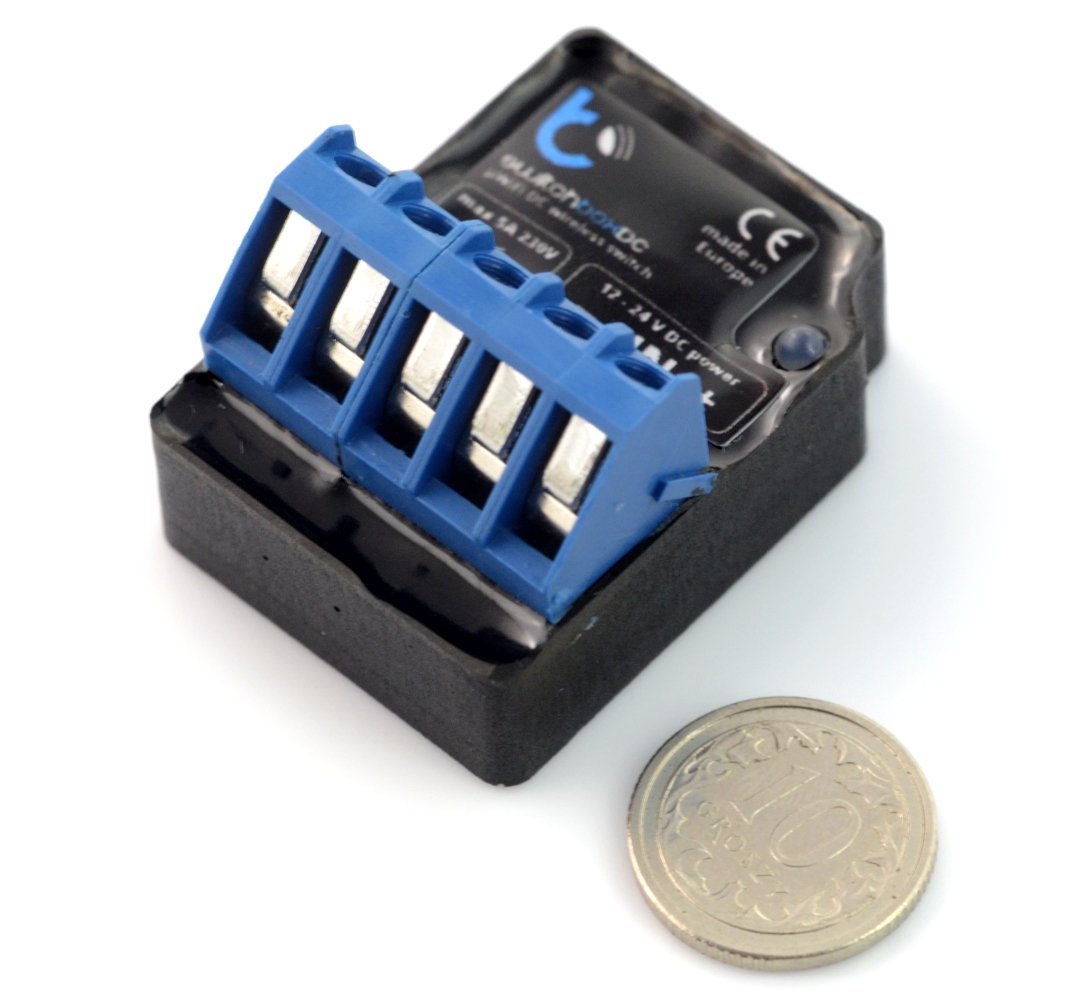 The device has screw terminal block connectors for mounting the wires. Its compact size enable you to put the unit in a junction box.
Connecting diagram
Before connecting, switch off the voltage in the powered circuit. The controller must be installed in a place protected from the weather conditions and from access by third parties.

Connecting diagram
The module has five inputs in the form of screw terminal block connectors, to which you can connect the wires using a screwdriver:
IN - input signal.
+ is powered from 12V to 24V.
- - power supply, neutral wire - ground.
Relay outputs - outputs for connecting the device.
Setting
You need to connect to a wireless network of the device called "shutterBox-xxxxxxxx" where "xxxxxxxx" is the serial number of the device, then using the Android Play store or the AppStore download the wBox - control everything app. After running the app at the top of the screen your device will be displayed, next to the name there will be the " + " sign. For initial setup of the device, you must click the default name of the device.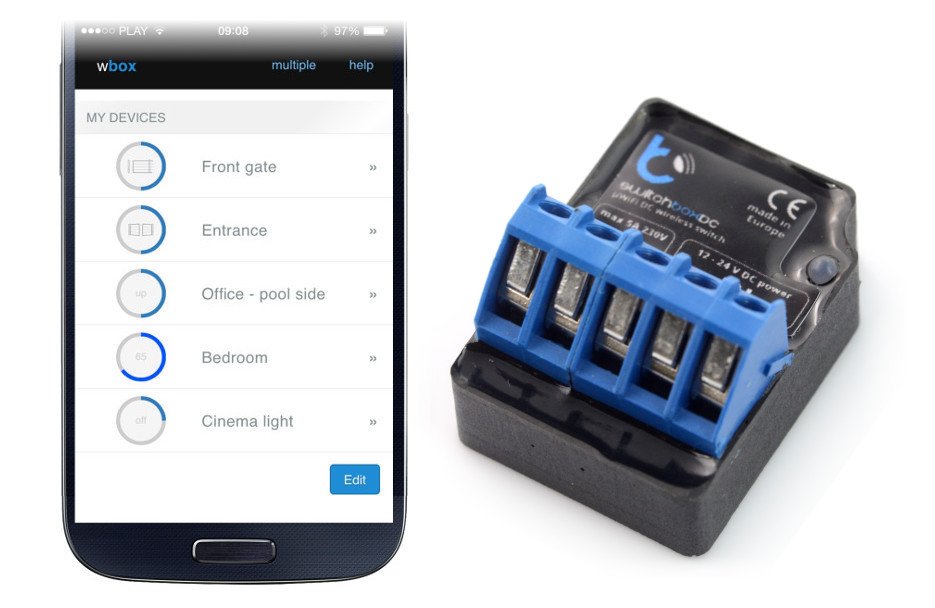 Setup can be done on the website - for this purpose you need to connect to the wireless network of the device, then just open the Internet browser and enter the IP address of the device: http://192.168.4.1 A setup page will appear, there you must select your home Wi-Fi network and enter the password.
Specification
Supply voltage: 12 to 24V DC (permanent)
Energy consumption: less than 1W
Number of outputs: 1
The type of control output: relay
Load current: max 5A
Load power: up to 1000V
Number of inputs: 1
Connection standard: µWiFi, compatible with 2.4 GHz wi-fi
Type of transmission two ways: encrypted
Mode

direct connection (as an Access Point),
Wi-Fi connection through a standard router
connect with access from anywhere via the Internet

Compatible devices: iPhone, iPad, iPad Mini, Android, computers and mobile devices supporting HTML5
The body is made from a polyurethane composition containing no halogen - self-extinguishing for the B insulation class (130°C)