Product description: Coolseer WiFi Power Strip - intelligent WiFi power strip
The CoolseerCOL-ST03WEis an intelligent extension cable with built-inWiFi. It is equipped with4 EU sockets and 4 USB portssupporting Fast Charge. It enables wireless control of the sockets with Andoid or iOS mobiledeviceapplications. The extender also supports voice commands usingvoiceassistant in theform ofGoogle Home, AmazonAlexa orIFTTT.
Each socket can be controlled separately. It has the ability to set a temporary switch on/off. The casing is made of fire resistant material. The extender has protection against too high load and overvoltage.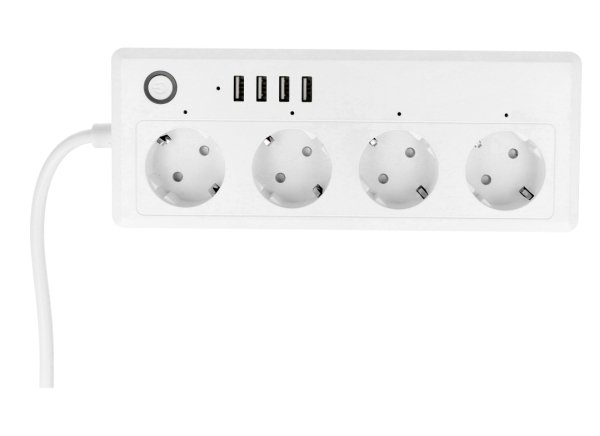 Intelligent WiFi power strip.
Specification of the intelligent power strip
Input voltage: 100 V to 240 V 50 / 60 Hz
Maximum load: 16 A
Maximum power: 3450 W
USB: 5 V / 3,1 A
Number of sockets: 4
Number of USB: 4
Housing material: fire resistant PC + ABS
Communication: 2.4 GHz Wi-Fi
Dimensions: 229 x 89 x 41 mm
Cable length: 1,6 m