Description: Google Coral - System on module - NXP i.MX 8M SOC + Edge TPU ML - 1 GB RAM.
Google CoralSoM chip equipped with NXP i.MX 8M SoC and Edge TPU, as well as Vivante GC7000 LiteGPU. The device has 1 GB of LPDDR4 RAM and 8 GB of built-in eMMC memory. It supports many interfaces including Gigabyte Ethernet, USB 3.0, HDMI, MIPI-DSI, MIPI-CSI-2 and GPIO.SoM is a fully integrated module containing all the most important components on a single board, to work with the module you will need a carrier board equipped with appropriate connectors. The Coral module on system will work well in machine learning or IoT projects.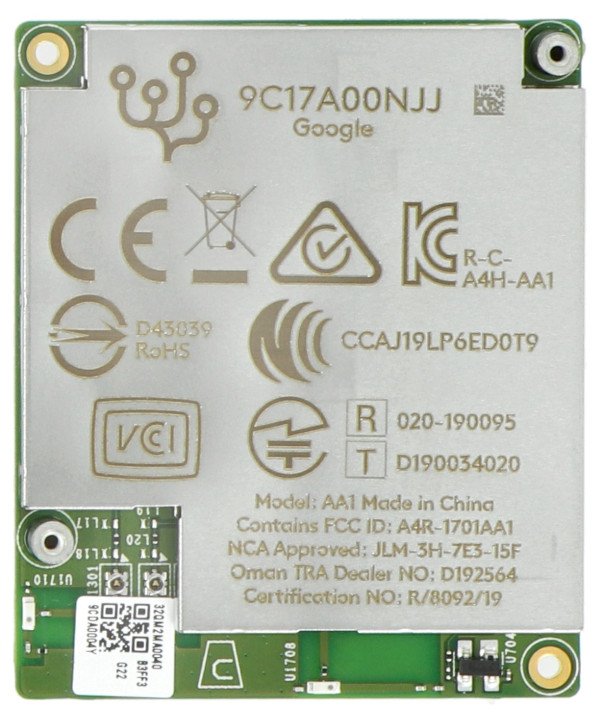 The upper part of the module.

Main features of the module
Comprehensive Linux:The board contains all the key components such as processors, memory, and the chipsets that support the interface.SoMworks well with Linux systems, the manufacturer suggests using Mendel based on the Debian distribution.
Fast operations: thanks to the Edge TPU coprocessor, themodulecan perform up to 4 trillionoperationsper second using only 0.5W.
Integration with custom hardware: The module can be used with any carrier boards with matching contact connectors.
TensorFlow Lite support
Support for AutoML Vision Edge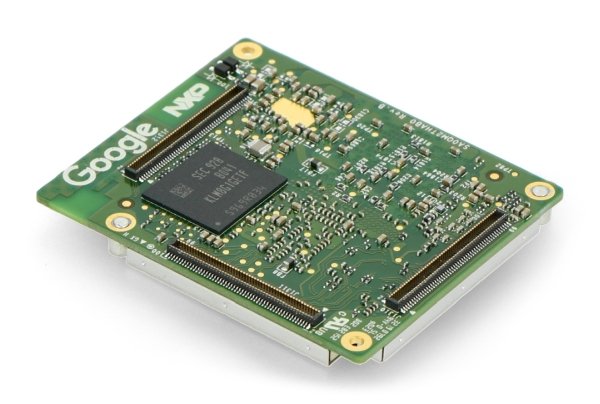 Connectors used to connect the module to the motherboard.
SoM advantages
The module contains all the most important components, which significantly facilitates work with personalized carrier plates. The system also contains a number of interfaces used during prototyping. In addition, the device features:
Fast TensorFlow Lite interface
Low energy consumption
Small in size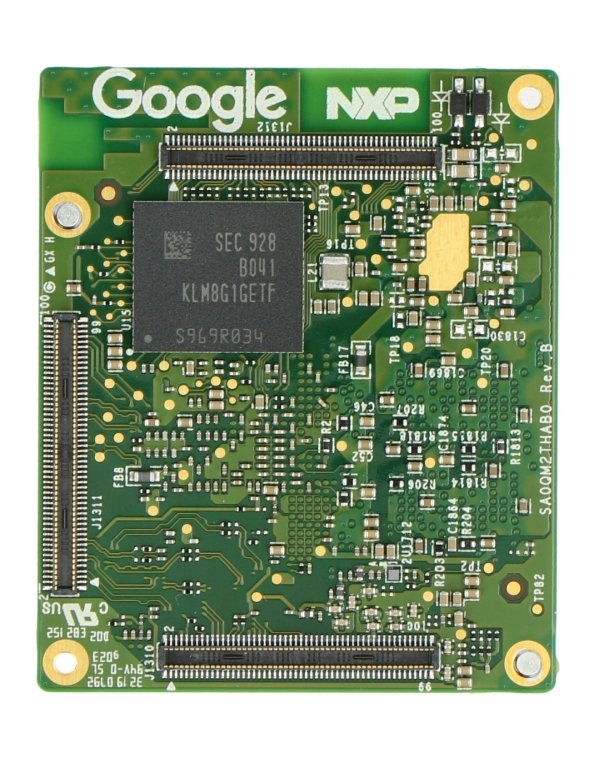 In our shop you will also find a Coral DevBoardkit consisting of a SoM chip and a backing plate.
Technical specifications
Parameter
Value
Processor:

NXP i.MX 8M SOC:

Cortex A53 quad core:

32 kB of instruction cache L1
32 kB of data cache memory L1
Support for 64-bit architecture:
1 MB of unified cache L2
Support for L2 cache protection with ECC function
(1.5 GHz)

Cortex M4F:

32 kB of instruction cache L1
32 kB of data cache memory L1
256 kB TCM memory

TPU Edge coprocessor:
A chip designed by Google to provide high performance inquiry in machine learning for TensorFlow Lite models. It can perform up to 4 trillion operations per second at 0.5W. Uses PCIe and I2C to connect to SoC iMX8M.
Cryptographic coprocessor:

ATECC608A Microchip

GPU:

Vivante GC7000 Lite:

4 shaders
267 million triangles per second
1.6 gigapixels

per

second
32 GFLOPs 32-bit or 64 GFLOPs 16-bit
Support for OpenGL ES 1.1, 2.0, 3.0, 3.1, Open CL 1.2 and Vulcan

VPU:

4K / 60 fps HEVC / H.265 main and main decoder 10

4Kp60

VP9 and 4Kp30 AVC / H.264

decoder

(requires full resources)

1080p60

MPEG-2, MPEG-4p2, VC-1, VP8, RV9, AVS, MJPEG, H.263

decoder

Interfaces (available for motherboard):

2x USB 3.0/2.0 controller with integrated PHY interfaces
1x uSDHC
1x Gigabit Ethernet with support for EEE, Ethernet AVB and IEEE 1588
2x UART
2x I2C
2x SPI
16x GPIO with interruptible
4x PWM
Input/output multiplexing controller

On-chip memory:

Boot ROM: 128 KB
On-chip RAM: 128kB + 32kB

External memory:

32/16 bit DRAM interface: LPDDR4-3200

, DDR4-2400, DDR3L-1600

8-bit NAND Flash
eMMC 5.0
SPI NOR

QuadSPI Flash with XIP support

The painting:

HDMI:

HDMI 2.0a to support one 1080p display
Scaling between 4K and HD format (requires full system resources)
Over 20 32-bit / 384kHz audio interfaces with TDM support
SPDIF input and output
Audio Return Channel to HDMI

MIPI-DSI:

4x channels supporting one display with resolution up to 1920 x 1080 / 60 Hz
LCDIF controller
The output can be an LCDIF output or a DC controller output

Audio:

1x SPDIF input/output
2x SAI module supporting I2S, AC97, TDm and codec/DSP interfaces

The camera:
2x MIPI-CSI2 input
Security:

Resource Domain Controller with support for 4 domains and up to 8 regions
ARM TrustZone architecture
Built-in RAM to protect the region using the OCRAM controller
Efficient start-up (HAB)
Cryptography acceleration and security module (CAAM)
Non-volatile memory protection
Real-time clock protection
JTAG controller protection

SDRAM memory:

1 GB LPDDR4 SDRAM

Maximum frequency: 1600 MHz

Direct connection to the built-in iMX8M DDR controller

The eMMC memory:

8 GB NAND eMMC memory
8-bit MMC mode
Compliant with JEDEC versions 5.0 and 5.1

MicroSD memory card slot:

SD/SDIO 3.0 standard
4-bit SDIO mode
Support of system start-up from SD card

Communications:
Connectors:

3x 100-pin connectors (Hirose DF40C-100DP-0.4V)

2x coaxial connector(Murata MM8930-2600)