Product description: COTER-EC Ethernet-CAN converter for NACS system
Converter of signalstransmitted overEthernet network toCAN 2.0B serial interface signals. CTER-EC enables simultaneous communication with up to 112 devices connected to the same bus. The maximum data transfer speed is 1 Mb/s. The converter offers the possibility of extendingCAN 2.0BframetoNX-CAN protocol frames, which ensures compatibility with other Netronix access control devices included in the NACS system.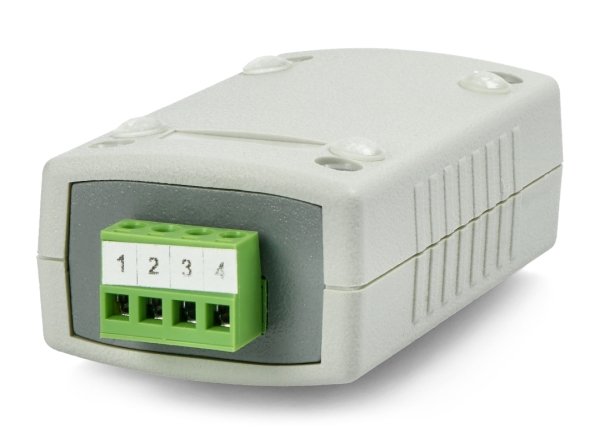 Ethernet-CAN COTER-EC converter for NACS system.
Function implemented in the device
Web server, enabling configuration, remote reset and viewing of the current state of the converter
DHCP client
Support for the NBNS protocol
Find devices in a network with dynamic network setting assignment
TCP conversion server - CAN 2.0B
TFTP server for remote software reloading
ACL access control list for web server and conversion server to restrict access to selected IP addresses
Description of exits
The converter has a4-pin screw connector. The manufacturer recommends that both ends of the CAN bus should be equipped with terminating resistors, taking into account the size of the network. For a short line, their value should be 120 Ω.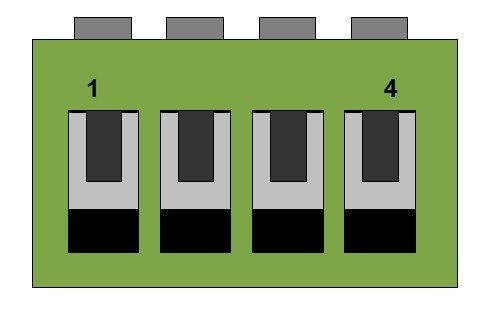 Diagram of the converter outputs - front view of the screw connectors.
Pin
Description
1
Supply voltage (V).
2
System Mask (GND).
3
Low potential CAN bus line (CAN_L).
4

High potential CAN bus line (CAN_H)

.
COTER-EC converter specifications
Supply voltage: 8 V to 25 V
Intensity: from 110 mA to 300 mA
Communication interfaces:

100 Mb/s Ethernet interface
CAN 2.0B serial interface configurable up to 1 Mb/s

LEDs that inform about device operation and activity on the serial interface
Built-in reset button to factory settings