Attention!
The product has been discontinued. Check other products incategory.
Description
Board with the wifi ESP-12E module with connectors in the form of goldpin pins. Led out are 9 GPIO 1 analogue input and RX, TX, RESET, CH_PD pins, power supply and ground. Also on board are LEDs, photoresistor and the voltage regulator of 3.3 V. In addition, the chip has a holder that allows for the power supply using three AA batteries.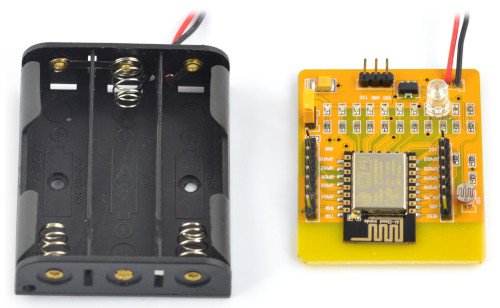 The system has a holder for 3 AA batteries- not included, sold separately.
Features of the Yellow Board with ESP-12E
It has 19 goldpin pins, 2.54 mm pitch:

9 x GPIO - digital outputs/inputs
1 x ADC input - digital-to-analog converter
UART (TX, RX) - for communicating, for example, with Arduino
CH_PD pin 
VCC - supply voltage of 3.3 V
GND - ground of the system

The default transfer rate of UART communication: 115200 bps
The jumper to connect the GPIO0 pin with the ground
Built-in LEDs, including one LED RGB
Mounted sensor of light, photoresistor connected to the analog input
Connected to the holder for 3 AA batteries for powering the system
It is equipped with built-in PCB antenna
Dimensions: 51 x 42 mm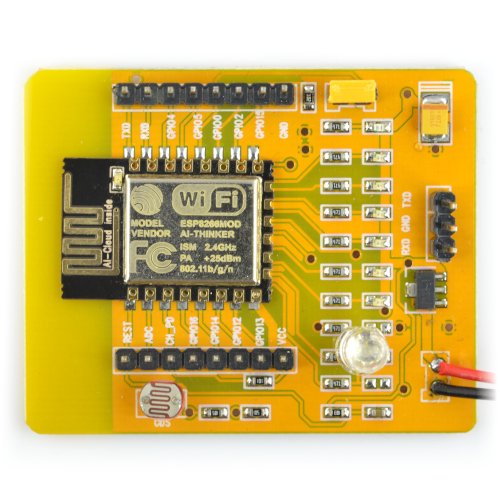 Connection
The module has led out connectors of the ESP-12E module onthe goldpin strap, pitch of 2.54 mm.
Pin
Description
TxD
The transmitter of the serial UART interface.
RxD
The receiver of the serial UART interface.
GPIO x
GPIO pin (digital output/ input) with a serial number.
Jumper
Combines GPIO0 with the ground. To update, you need to indicate the low status (i.e. leave the jumper).
GPIO 15

GPIO No. 15 with a special function:

In normal operation and programming, it should indicate the low status (connect to GND).

ADC
Analog / digital converter input - combined with built-in light sensor - photoresistor.
REST
The system reset.
CH_PD
Power down - indicating the low status causes a transition into sleep mode.

To update, you need to indicate a high status (3.3 V).

VCC
The power supply - 3.3 V.
GND
The ground of the system.
Software update
To communicate with the Arduino or using the AT commands, we recommend the software update using the XTCOM_UTIL software. To do this:
Downloadthe software from our website
On the module connect the pins:

GPIO0 with ground - using the jumper
GPIO15 with ground
REST with VCC
CH_PD with VCC

To connect the ESP module through the USB-UART converter 
In the program select Tools -> Config Device
Choose the correct COM port, open it, and connect with the ESP chip
Leaving open a window of Device Config, select the API TEST> Flash Image Download
Choose firmware: ESP8266 v0.9.5.0 AT Firmware.bin and upload by clicking Download
The procedure was presented in the video:
Specification
Supply voltage: 3.3 V
Current consumption at rest: approx. 10 µA
Chip: ESP8266
Standard: wi-fi 802.11 b/g/n
It operates in the 2.4 GHz frequency
It supports WPA / WPA2
It can work in AP mode (Access Point), STA mode (standalone) and AP+STA mode
It supports AT commands
Communication: UART (Rx, Tx)
The default UART speed: 115200 bps
Lua software support 
Dimensions of board: 51 x 42 mm