Product description: PCIe 3.0x2 M.2 NGFF Key B to SATA 3.0 6Gb/s converter - 5 ports - JMB585 - for Odyssey-X86J4105 - Seeedstudio 103990543
M.2 Key BtoSATAconverterusingPCIe 3.0(Point-to-Point) connection, which allows for fast data transfer. It provides access to5 portswith a transmission speed ofup to 6 Gb/s.The converter is equipped withJMB585chip. Enables extension of available ports inOdyssey-X86J4105minicomputer.
Technical specification
Compatible with:Odyssey-X86J4105
PCIe 3.0 M.2 to SATA 3.0 Adapter
M.2 connector type: Key B
Number of ports: 5
Chip: JMB585
Speed: up to 6 Gb/s
Dimensions: 80 x 22 mm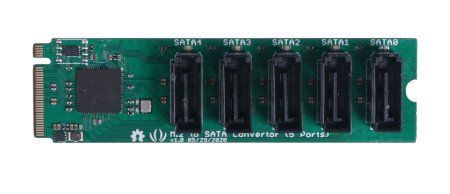 Converter allowing to extend number of SATA ports of Odyssey-X86J4105 minicomputer.