Product description: DS1302 RTC - real time clock + battery
Module with real time clockDS1302RTC and aCR2032 battery. It allows you to read the time in hours, minutes, and seconds, date: day, month, year. Communicates via I/O interface.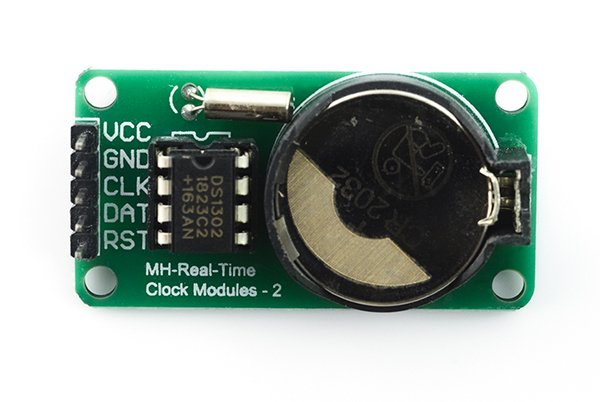 The connection module RTC DS1302
The system communicates using the I/O (not SPI or I2C), it has solderedgoldpin connectors - 2.54 mm raster. Description of the outputs is given in the table below.
| Pin | Description |
| --- | --- |
| VCC | Supply voltage from 2.0 V to 5.5 V |
| GND | The ground of the system. |
| CLK | Line clock. |
| DATE | Data line. |
| RST | Reset. |
Specification of module RTC DS1302
Supply voltage: from 2.0 V to 5.5 V
Current consumption: less than 1 mA
Disposition: DS1302 (documentation)
Communication interface: I/O
Available data:

Time: time (AM, PM), minute, second
Date: month, day, year

The ability to save data via battery (included)
Included batteryCR2032