Attention!
The product has been discontinued. Check other products in category.
Specification of Pololu m3pi Line Follower robot:
Microcontrollers:

ATmega168/328P
The ability to connect the mbed module: LPC1768 (Cortex M3)

Motors:Pololu HP 30:1
Motor driver: TB6612FNG
Power 4 xAAA batteries
Working voltage 3.2 V - 7.2 V
For whom?
This robot is ideal for beginners who want to learn programming, and at the same time relax with electronics and mechanics. Thanks to the m3pi the user can explore the opportunities offered by the microcontrollers of the Atmega series. You can discover more about programming in the C language,asfor 8-bit AVR: s as the latest 32 - bit microcontrollers with nuclei. company ARM - Cortex. You can learn peripherals, and the opportunities provided by modern chips. It enables you to learn how to control DC motors.
Video about exemplary functions of the m3pi robot.
Description of Pololu m3pi Line Follower robot
Pololu m3pi is the extended version of the 3pi robot. Equipped with engines30 HP:1,wheel Pololu, LDC display 8x2 and connectorsnecessary for programming. Design is controlled by the microcontroller from the family AVRAtmega328(clock frequency: 20 MHz, 32 KB Flash, 2 KB RAM, 1KB EEPROM) compatible with the platformArduino. For the detection of lines it uses 5 sensorsQTRrouting hooks good for another converter analog-digital-embedded microcontroller. In addition to the Atmegi, the robot has the possibility to connect the mbed microcontroller NXPLPC1768(Cortex M3) moduleorLPC11U24(Cortex M0).The robot is powered by fourAAA batteries.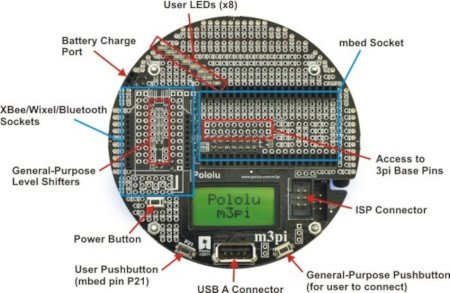 What is mbed?
The project, which goal is to give users the tools for programming microcontrollers, 32-bit LPC. Mbed includes:
The board, which is a microcontroller with a Cortex M0 or M3. It has goldpin outputs, several LEDs and a reset button. An important element is the built-in debbuger. To connect to the computer there is a USB cable.
Development environment. Absolutely free, available on-line. To connect, the computer module detects a storage device (like a flash drive) where you can find an icon - link environment. Just press and then register on the project website and you can use the environment.
Library. The manufacturer offers an extensive set of libraries for 

peripherals of

the microcontroller (for example, USART, I2C, CAN, Timer) as well as for many popular sensors (e.g. accelerometer and gyro LSM303DLH).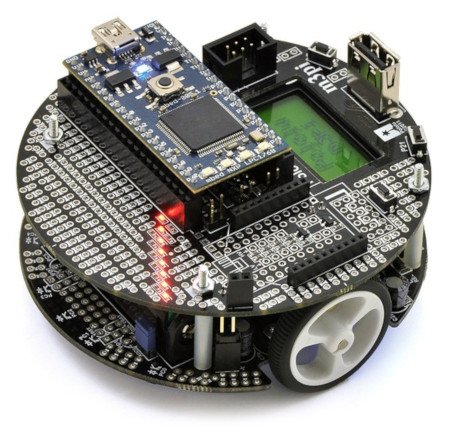 Details on the project website.
Wireless connection with Popolu m3pi Line Follower robot
Another extra feature is the ability to connect the programmable wireless module with USB interfaceWixel.