Attention!
The product has been discontinued. Check other products in category.
Description of WLAN Starter Kit ESP8266 IoT Thing Dev Board for Microsoft Azure
Starter set introducing the world of IoT (Internet of Things) via the module ESP8266 Thing Dev Board. It has the ability to connect with service Microsoft Azure to analyze and visualize the data. The set includes, i.a.: photoresistor and sensor of temperature and humidity.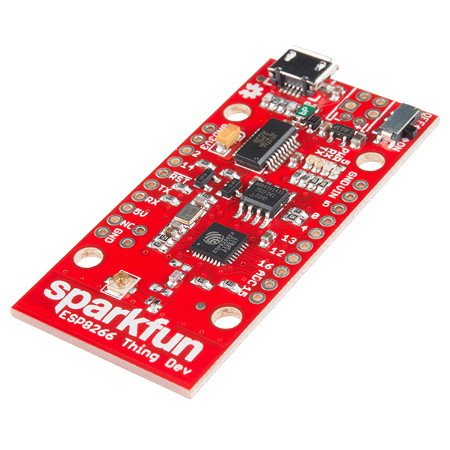 Microsoft Azureis the leading provider of cloud services for IoT modules. It provides reliable two-way communication with the sensors to collect and analyze data. It supports many operating systems (e.g. Windows, Linux, RTOS), protocols and popular languages, so you can easily configure the connection to the modules.
The included to the kit, module WiFi SparkFun ESP8266 Thing Dev Boardis a combination of a simple microcontroller with a wi-fi system. Board includes all the necessary elements for working, for example, the voltage regulator and the PCB antenna. To start using the module, you need to connect it to the computer and program it via the Arduino IDE or other environment.
Features of the module SparkFun Thing Dev
Built-in USB-UART converter is based on the FTDI chip that allows for the programming directly via microUSB slot
It has 20 pins that work with a voltage of 3.3 V

GPIO pins - digital outputs/inputs
UART interface (TX, RX) - for communicating, for example, with Arduino
Input of the regualtor: 5 V - connected with the power supply of the microUSB connector
The I2C bus (the SDA and SCL lines)

Mounting: THT:
Equipped with built-in PCB antenna
It has the u.FL connector to attach the external antenna 
Built-in 2 LEDs

1 x connected to pin 5
1 x power indicator

The possibility to solder an additional power connector: miniJST, pitch of 2 mm
Built-in switch allows you to turn off the power supply at any time
It has four mounting holes with the 3 mm diameter
Specification: WLAN Starter Kit ESP8266 IoT Thing Dev Board for Microsoft Azure
Supply voltage: 3.3 V or 5 V
Working voltage of pins: 3.3 V (connection with the system operating with a voltage of 5 V, it requires an external voltage converter)
Current consumption up to 300 mA
It supports the WiFi 802.11 b, g, n standard
Built-in TCP/IP stack
It operates in the 2.4 GHz frequency
It can work in AP mode (Access Point)
Transmitter power: 19,5 dBm
It communicates via the serial UART interface
It has a built-in USB-UART converter based on FTDI system
It has a built-in PCB antenna
It is equipped with communication interfaces: SPI, UART, SDIO
The set consists of:
L. p.
Photo
Description
1
Wi-fi ESP8266 Thing Dev Board module
2
Breadboard with 400 holes.
3
Temperature and humidity sensor RHT03.
4
Photoresistor.
5
A set of colored LEDs- 20 PCs.
6
MicroUSB - USB cable of 1.8 m.
7
Male-male wire with the length of 18 cm - 30 pieces.
8

330 

Ω

- 20 pieces
10 k

Ω

- 20 PCs.