Description
The sensor measures the air clarity, depending on the content of formaldehyde. It is characterized by its high stability and sensitivity and long service life. It works with voltage from 3.3 V to 6 V. The kit includes a cable adapted to DFRobot IO Expansion Shield.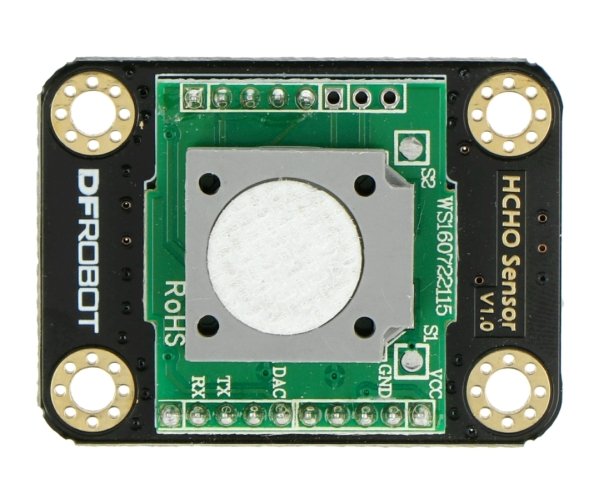 The product is compatible with Arduino
Sample code and detailed information can be found inthe user guide.

Connection
The sensor works with any microcontroller with digital inputs, includingArduino. In order to read its value, you should use alibrary for the Arduino.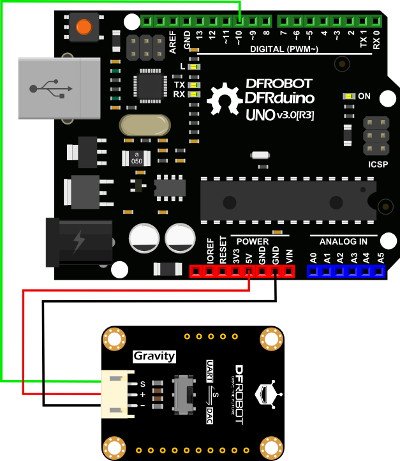 Example of connecting the sensor withArduino.
Specification
Supply voltage: from 3.3 V to 6 V

Detectable gas: HCHO (formaldehyde)
Gases that are disrupting: alcohol, CO, etc.
Detection range: 0 to 5 ppm
Resolution: 0.01 ppm
Heating time: up to 3 min.
Response time: up to 60 sec.
Retry time: up to 60 seconds.
Interface type: 3-pin Gravity 
The output signal

DAC mode: 0.4 V to 2 V for 0 to 5 ppm
UART mode: 9600 b/s

Operating temperature: 0 °C to 50 °C
Working time: up to 2 years
Dimensions: 38 x 28 x 15 mm
Weight: 22 g