Description
iNode LAN gives access to iNode Bluetooth BLE devices in networks with the Ethernet protocol. With this module you can increase the range of iNode Care Sensor sensors in the building or track on-line the movement of iNode Nav.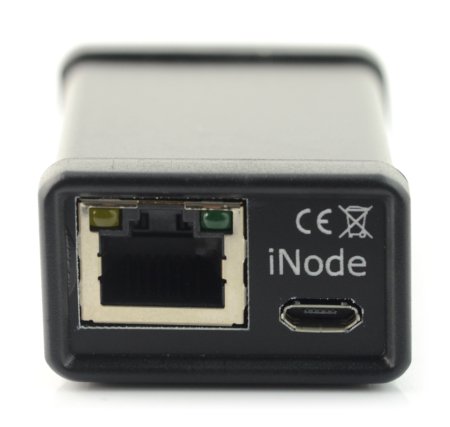 Connection
The power supply can be connected in two ways:
The device must be connected to an Ethernet LAN using a Patchcord cable
In Windows system under "

Network Neighborhood

" the iNode LAN device will appear - just double click on the icon to log in through the browser settings
Detailed instructions for configurating and managing iNode devices are available in the user's manual.
iNode SetupandiNode Monitor browser applications enable remote access to iNode sensors. Using HTML page you can listen to and view the contents of BLE transmission packets. The HTML and JavaScript pages can be easily modified.In the same way you can control the device through telnet TCP/IP.

Application
Product tracking
Data collection
Air conditioning and ventilation (HVAC)
Industry
Home automation
Alarm systems and protection of property
Specification
Bluetooth and ethernet: BLE - configurable via browser

work mode BLE: AUTO SCAN or REPEATER
power: -18 dBm to 8 dBm
network settings: IP address (permanent or via DHCP), netmask, gateway, DNS server, NTP time server
the name of the device in the LAN network and BLE
IP address and port to which the UDP packets are sent
sending method: multicast, or unicast stream is configurated automatically based on your IP address
the user's password
the administrator password
Power: microUSB 5V / 85mA or POE from 6V to 30V / 40 mA, 100 Mbit/s 24V/60 mA, 100 Mbit/s, 12/120mA, 100 Mbps 6V
Remote control via TCP / IP telnet on port 5500

The possibility of replacing the software - through a browser

Two LEDs: ethernet LINK and STATUS
HTTP server:

6,9 MB for user's HTTP website and 1MB for HTTP system website

WebSocket 

technology support
supports up to 2 calls simultaneously

Reset button: reset settings to factory default

Temperature sensor with a resolution of

1°C

Working temperature: from -20°C to 45

°C

Humidity: 35% to 80% RGH
Chipset: CSR 101x and W5500
Built-in app JavaScript / WebSocket / HTML5 - iNode Monitor
Body: metal
Dimensions: 81 x 38 x 22mm
Weight: 45g