Description: DFRobot Gravity - Gesture and touch sensor - DFRobot SEN0285.
A sensor module that combines gesture and touch recognition functions. It allows the detection of gestures from a distance of 0 to 30cm,thisdistancecan be adjusted in the above mentioned range. The device connected to the minicomputer allows to detect touch from 5points and to recognize7 types of gestures. The 5-way touch panel can be used either directly from the module's board or through the use of cables, the place provided by the project.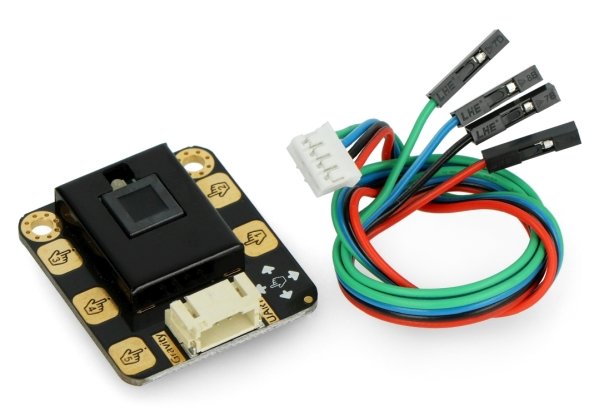 Gesture and touch sensor with connection cable.
Arduino compatible product
For a sample code and detailed information, see theuserguide.
Sensor connection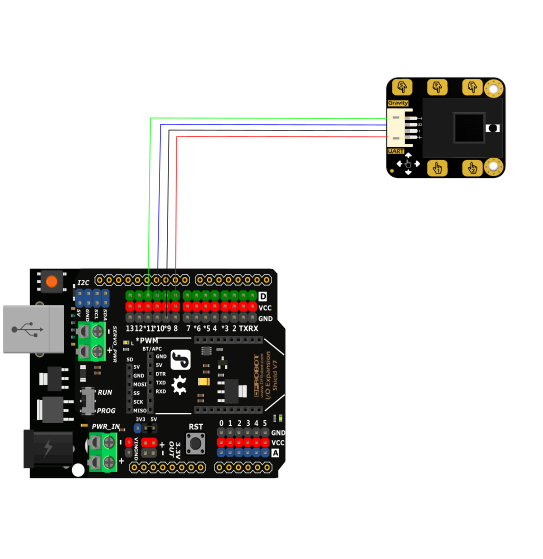 Example of connection of the sensor with ArduinoUnoextended by DFRobot Gravity- IO Expansion Shield.
To connect with Arduino you will need additional DFRobot Gravity- IO Expansion Shield,the expansion board should be purchased separately.
Gesture and touch sensor specifications
Power supply: 3.3 to 6 V (5 V recommended)
Output voltage: 0 to 3.3 V
Current consumption during operation: approx. 56.3 mA
Sleep mode current consumption: approx. 40 µA

Communication: UART

Gestures supported:

left-hand traffic
right
forward
backward movement
upward movement
downward movement
stall and take a hand

Dimensions: 36 x

32 mm