Attention!
The product has been discontinued. Check others products in category.
Description
Module with 16-channel multiplexer CD 74HC4067 allows you to connect up to 16 signals to a single analog output. The system can function as a demultiplexer and work with digital signals. This means that with a single contact you can derive up to 16 signals or connect 16 sensors to one terminal. The module is supplied with the voltage from 2 V to 6 V.
Specification
Supply voltage: 2 V to 6 V
Standards compatibility CMOS and TTL
Output current per channel: up to 25 mA
Operating temperature: -55 °C to 125 °C
Settings when the power voltage of 4.5 V:

The resistance of the complete channel (It): 70 Ohm
Response time: 6 NS
Outputs are solder fields for soldering goldpin connectors (2.54 mm pitch). Thanks to them, it is possible to connect the system with the breakout board or the main module (for example, STM32Discovery or Arduino) via wires.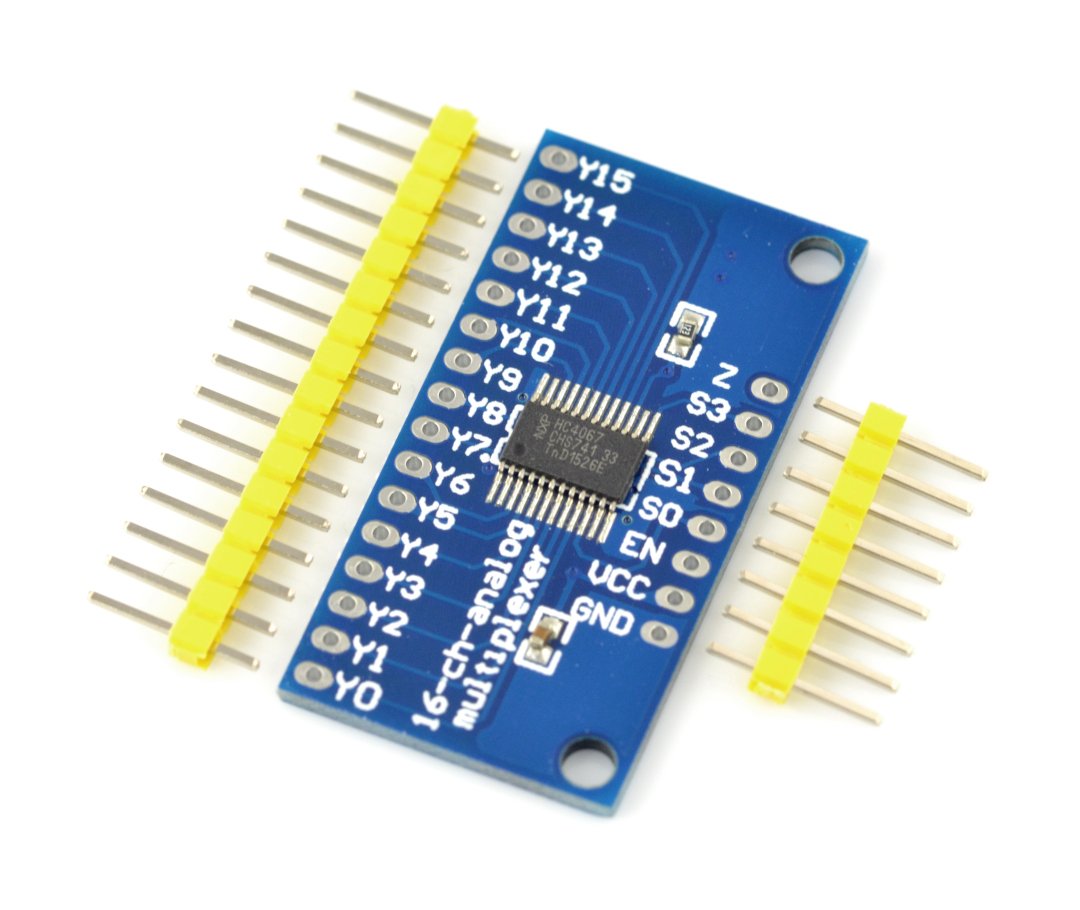 Included goldpin strap for self-soldering.
Connection
System multiplexer/demultiplexer operates as a switch. It sends a signal from the common output (labeled COM - in the diagram, SIG - on-board) to one of 16 channels (CHANxx). It can also work in the opposite direction, that is, to transmit a signal from one of the 16 channels on the output. The module works for both digital and analog - the voltage value must not exceed the power supply (VCC).
To control the multiplexer you need to connect digital pins S0 - S3 and to specify the corresponding address in the binary. Details in the documentation .
The module also works with digital signals. This means that you can use it to switch the communication interfaces. For example, by connecting one output serial TX you can communicate with 16 receivers RX. Also, with the I2C bus, SPI and others.