Description
A pressure sensor that provides measurement in closed spaces using the cable. It communicates using theI2Cinterface. The measuring range of pressure isfrom 0 to 172 kPa. The module is compatible withArduinoandRaspberry Pi. It is poweredfrom 3 V to 5 V.
It can be used in projects "Sip & Puff" or as a device for measuring the pressure in vacuum chambers or pressure tanks. The sensor has a measuring output made of stainless steel with a diameter of 2.5 mm and a height of 3.7 mm. the Absence of the measuring tube in the kit.
Pins
The sensor has pins for mounting goldpin connectors - 2.54 mm pitch, the strap is in the set for self-assembly.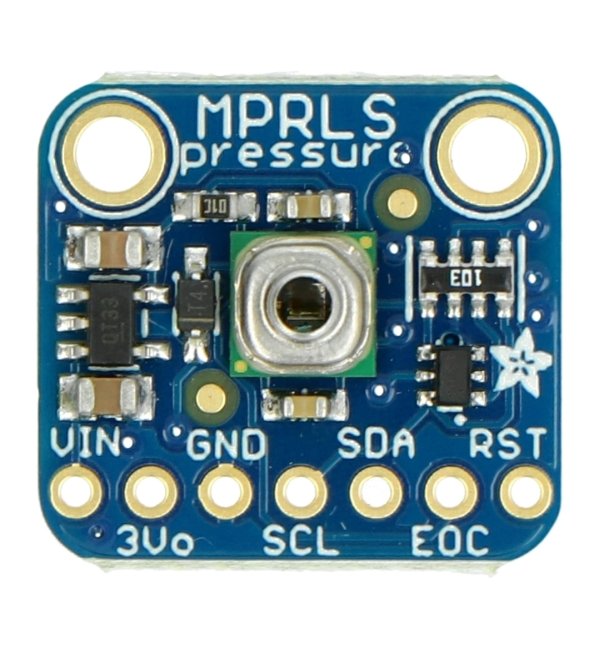 | Pin | Description |
| --- | --- |
| Vin | The module's supply voltage ranging from 3 V to 5 V. |
| GND | The ground of the system. |
| 3V3 | Regulator's output of 3.3 V with the current of 100 mA. |
| SCL | Clock line of the I2C bus. |
| SDA | The data line of the I2C bus. |
| RST | Reset. By default, pulled to ground. |
| EOC | The output pin of the end of conversion. It switches to indicate that the conversion is ready to read. |
Specification
Supply voltage: 3 V to 5 V
Communication: I2C
Measuring range: 0 to 172 kPa
Dimensions: 17,8 x 16.7 x 7.5 mm
Weight: 1.1 g