Product description: Arduino Due ARM Cortex - module A000062
Thanks to the Arduino Due, the user can create layouts using microcontroller with 32-bit Cortex M3 ARM, based on Arduino libraries. The plate contains the Atmel AT91SAM3X8E system equipped with 54 digital inputs/outputs, 12 of which can be used as PWM outputs and 12 as analog inputs of converter A/C. The system works with the signal ticking with the frequency of 84 MHz. There are also interfaces: UART, SPI, TWI (I2C), USB, JTAG and digital-analog converter.
The subject of the sale is the original product for Arduino, Botland is the official distributor of this company.
On the board is a place for connector of two microusb (one for settings, the second to the disposition of the user), DC power socket, RESET button and JTAG connector. To get started with the Arduino module, just the USB cable and software from manufacturer's website are necessary.
Arduino Due specification
Supply voltage

from

7 V to 12 V
Microcontroller: AT91 core SAM3X8E 32-bit

Maximum clock frequency: 84 MHz
SRAM: 96 KB
Flash memory: 512 KB
Pins I/O: 54

PWM channels: 12
Number of analog inputs: 12 (channels of converter A/C)
C/A converter (digital-analog)

The DMA controller

Serial interfaces: UART, SPI, I2C, CAN, USB
JTAG debugger
Attention!

Unlike other modules, Arduino Due works with a voltage of 3.3 V. the Maximum voltage tolerated by I/O, is also 3.3 V. to Specifying a higher value, for example, 5 Volts, may permanently damage the chip.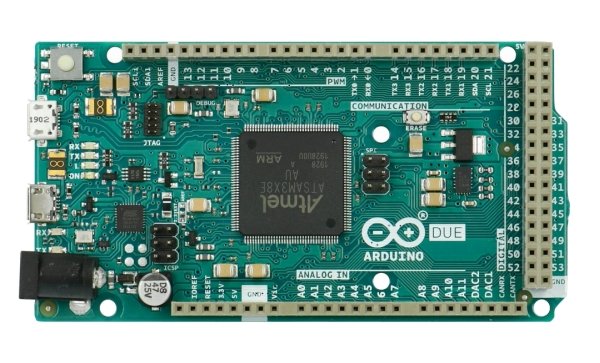 The Arduino Due has it's own section on the forum, in which are numerous examples of using and tips for users.
Power supply of Arduino Due module
The module can be powered via the USB cable and the external device, for example, the AC power supply, the battery or the accumulator. Switching power sources is automatic. The power supply is connected to a standard DC socket. Battery or other source has to be connected to the pins of the POWER connector.
Programming the Arduino Due
Creatinf and uploading software, allows free environment supplied by the manufacturer. Implemented bootloader allows you to send the program directly via USB cable. A detailed description can be found in the tutorial. Arduino Due, except from USB connector for programming, also has a connector that the user can use at their own discretion.