Product description: Digital temperature and humidity sensor + stainless steel probe - SHT20 - DFRobot SEN0148
Digitaltemperatureandhumiditysensorincluded with a high qualitystainless steelprobe. The components have been manufactured by DFRobot, and the sensor has a built-inSHT20chip, thanks to which it hashigh precision measurements. The leading technology used in this solution is CMOSens. The sensor has been covered with a metal mesh to increase its resistance to high temperature, pressure and general wear and tear. The probe has a2-wire serial interfaceand internal voltage regulation for easy and fast system integration. The measuring range for temperature is-10°C to 80°Cwith an accuracy of +/- 0.5°C. Humidity, on the other hand, can be measuredfrom 0% to 100% RHwith an accuracy of +/- 5% RH.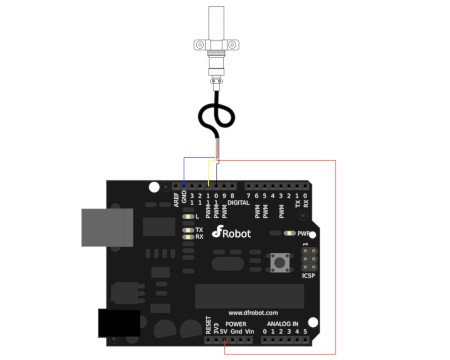 Example connection diagram of sensor using Arduino board. The board is not a part of kit, you can buy it separately in our shop.
Leads description and diagram of connection with the use of controller board
The probe has stripped wires to be connected to the controller module. The sensor is compatible with Arduino and its equivalent boards. Leads should be connected according to the following dependencies:
redwire - power supply 5 V
bluewire - system ground GND
yellowwire - communication interface clock line
blackwire - line of the communication interface data transmission
Note: In most modules, the ground wire is marked with a black wire. In this case, it is coloured blue.
Technical specifications of the sensor from DFRobot
Module: digital temperature and humidity sensor
Embedded circuit: SHT20
Technology used: CMOSens
Input voltage range: 5 V
Power consumption: approximately 0.15 mW
Communication interface: serial (non-standard I2C)
Temperature measurement range: from -10°C to 80°C
Accuracy of measurement: +/- 0.5°C
Humidity measurement range: 0% to 100% RH
Measuring accuracy: +/- 5% RH
Short response time < 8 seconds
Probe material: stainless steel
Module dimensions: 49 x 14 mm
Probe cable length: 900 mm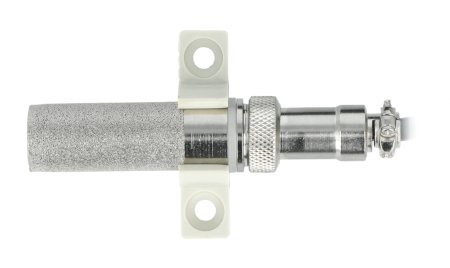 The sensor is covered with a metal mesh which increases its resistance.
Suggested use
Monitoring of greenhouses and production and storage areas
Used in the monitoring of stock rooms
Control element in machine rooms and electronic control cabinets
Kit contents
Digital temperature and humidity sensor
Stainless steel measuring probe 90 cm long
In our assortment you will also find otherenvironmental sensors. We invite you to familiarize with the offer.