Product description: Rotary encoder, pulser, rotary encoder - DFRobot EC11
A knob in the form of an encoder together with a button, allows you to create a simple user interface. The module has three signals: A and B are the encoder output, while C is the button signal output. The encoder is equipped with XH2.54 PCB.
Encoder pinouts
The module is compatible with Arduino board. The manufacturer prepared a connectionexample and a sample program for Arduino.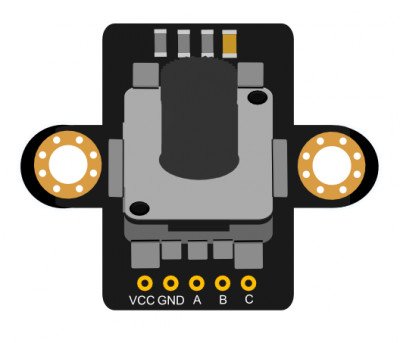 | Pin | Description |
| --- | --- |
| VCC | Supply voltage from 3.3 V to 5 V. |
| GND | System ground. |
| A | Encoder phase A. |
| B | Encoder phase B. |
| C | Button. |
Operating principle of encoders
Technical specifications of the encoder
Supply voltage: 3.3 V to 5 V
Full rotation: 360 degrees without stopping point
Number of steps: 15
Life time: 30000

± 200 cycles

Resistance:

≤ 100 mΩ

Isolation Resistance:

100 MΩ or more

Oscillation: < 10 ms

Operating temperature: from -30 to 80

℃

Module dimensions: 33.8 x 22.4 mm

Weight: 14 g

Goldpin connectors included - for self-soldering