Description of product: SparkFun IoT - starter kit with the Blynk board
SparkFun IoT allows you to introuduce the user to the evolving technologyof the Internet of Things. In the set are the elements, allowing, i.a. to send information about the need to water the plants, you will be ableto monitor the weather conditions, control the lighting - all in a very easy and convenient way. The mobile app allows users to add to the phone various buttons, sliders, graphic displays.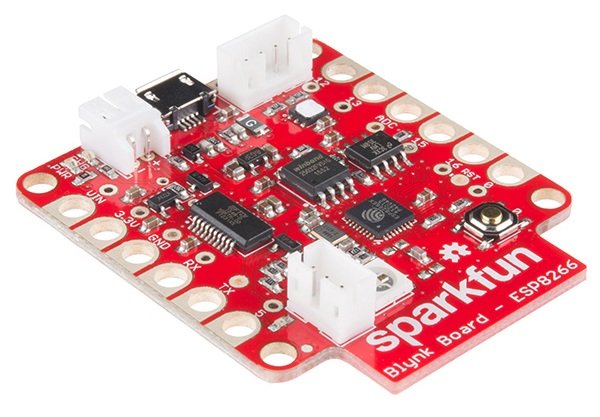 Blynk boardis fully programmed. Included is a card with a code for Blynk subscription. Getting started with the Blynk board, is very simple. Just download and installthe mobile app Blynk(iOS,Android) and connect with the board in a wi-fi network. The kit requires no soldering and is recommended for users interested in IoT technologies.

The contents of the starter kit
SprarkFun Bynk ESP8266
Network charger of 5 V - USB (1 A)
MiniUSB - USB cable
Male-to-male connecting wires - 20 PCs
Crocodile wires - 10 pcs
Resistors:

20 x 10 kOhm, 1/6 W THT
20 x 330 Ohm 1/6 W THT

Screwdriver set
LEDs
Photocell
Switch
Slide Pot-X-Large
Magnetic sensor
Humidity sensor