Product description: Gravity - microwave sensor for motion detection V2.0 - DFRobot SEN0192
The sensor uses the Doppler effect to detect the motion of objects. By using microwaves instead of infrared, it is possible to detect objects that reflect waves in the micro range. In addition, the sensor does not depend on the ambient temperature and also detects inanimate objects.
Microwave detection has numerous advantages over other methods:
Non-contact detection
The reading does not depend on temperature, humidity, noise, air, dust or light - suitable for harsh environments
High resistance to radio interference
Signal harmless to humans
Wide range and high speed of detection
Detects the movement of inanimate objects
Communication
The sensor is equipped with a digital output, which should be connected to any input of the microcontroller.
The product is compatible with Arduino
Refer to the user guide for an example code and detailed information.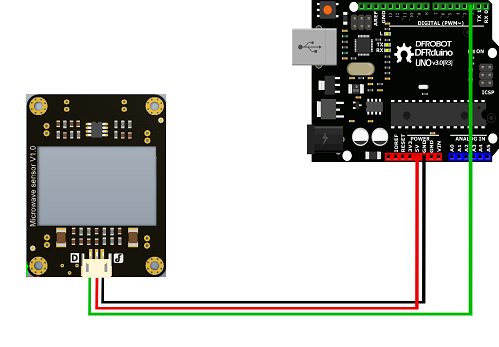 Example of sensor connection. You can download the library for Arduino from the manufacturer's website.
Specification
Supply voltage: 5 V +/- 0.25 V
Operating current:

Typical: 37 mA
Maximum: 60 mA

Output signal: digital
Emission parameters:

Detection distance: 2 to 16 m
Emission frequency: 10.525 GHz
Frequency setting precision: 3 MHz
Power output: 13 dBm EIRP
Harmonic emission: < -10 dBm
Average current: 2 mA
Pulse Width: 5 μs
Load cycle: 1%

Receiving parameters:

Sensitivity: 3 Hz to 80 Hz
Bandwidth: -86 dBm
Bandwidth from 3 Hz to 80 Hz: 10 μV
Antenna gain: 8 dBi
3 dB vertical beamwidth: 36 degrees
Horizontal beamwidth: 72 degrees
PCB dimensions: 63 x 48.5 mm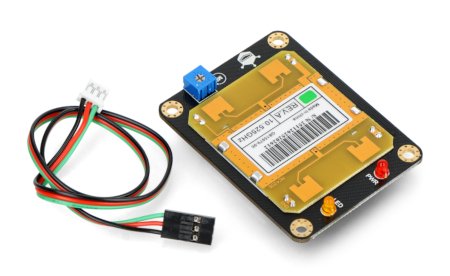 The board is compatible with the DFRobot IO Expansion Shield connectors for Arduino V7.1.
Kit includes:
Microwave sensor for motion detection
Connection cable
DFRobot Gravity microwave motion detector
DFRobot's Gravity series microwave motion sensor can detect human motion and other physical objects by emitting electromagnetic waves in the radio frequency range. The sensor can operate in a wide range of temperatures, including industrial environments with a high level of pollution. The method of detecting living organisms and inanimate objects using microwave emission is reliable and resistant to external interference. Moreover, the microwave detector is safe for living organisms, i.e. humans and animals.
DFRobot microwave sensor - withstands even the harshest environments
The DFRobot Gravity Series microwave motion detector is an excellent alternative to classic infrared sensors. Unlike IR sensors, microwave sensors have a much higher sensitivity - they are able to detect the presence of people even behind a wall, even when there is no one in the direct field of view of the sensor. Another important practical advantage of such sensors is their high resistance to extreme weather conditions - from bitterly cold temperatures to tropical heat.