Description
Digital temperature sensor DS18B20 with the Gravity interface compatible with Arduino. The sensor may be connected to the expander Gravity insights V7.1. It works in the range from -55 °C to 125 °C. It is powered with the voltage from 3.3 V to 5 V.
Connection
The product is compatible with Arduino
Sample code and detailed information can be found in the user's guide.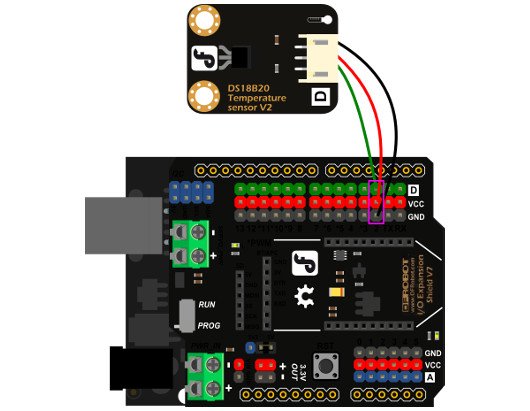 Sample connection diagram with Arduino module.
Key features
Digital conversation and temperature's output
Advanced data transfer using a single bus
Max. resolution of 12 bit, accuracy of up to ± 0,5

°C

Available parasitic mode

Measuring range from - 55 °C to 125

°C

Built-in EEPROM memory and temperature limitations
Specification
Supply voltage: from 3.3 V to 5 V
The temperature measurement range: -55 °C to 125

°C

Interface: digital

Dimensions: 32 x 22 mm