Description
Non-contact temperature sensor. It is used for measurement of IR radiation, and does not require direct touch. The optical system collects the radiation from its field of view, and the collected energy is converted into electrical signals, and further to the temperature value. MLX90614 has a low-noise amplifier for signal processing. The chip consists of 17-bit A/D converter and DSP processor, allowing it to give the accurate and reliable results. It works withthe Arduino modules. The set includes a cable adapted toGravity DFRobot IO Expansion Shield.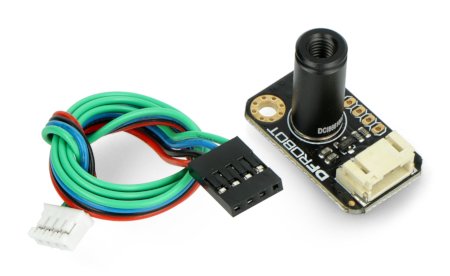 The product is compatible with Arduino
Sample code and detailed information can be found inthe user guide.
Connection
The module works with any microcontroller with I2C interface. To read data, it is sufficient to connect the power source and output pins to respective inputs of the microcontroller.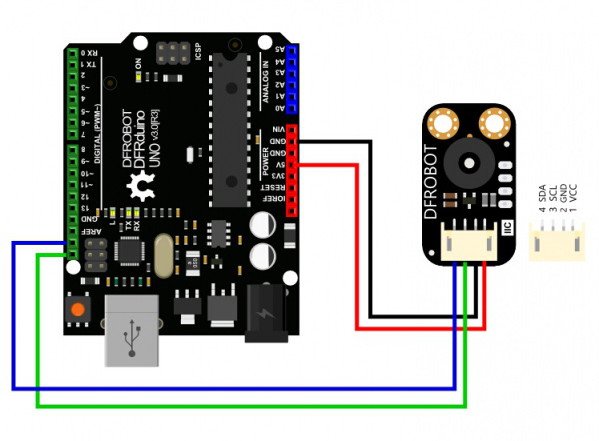 Example of connecting the sensor withArduino.
Specification
System MLX90614-DCI
Supply voltage: from 3.3 V to 5 V
Nominal current: up to 1.2 mA
Operating temperature: -70,01 °C to 270 °C
Resolution: 0.01 °C
FOV: 5°
Accuracy: 0.5 °C
Interface: I2C
Cable for connection toGravity DFRobot IO Expansion Shield
Board sizes: 31,5 x 18 mm
Weight: 15 g
Set includes:
The main module
Connecting cable