Description: Gravity - Analogue water and soil salinity sensor - DFRobot DFR0300-H.
The device allows to measure thesalinity of waters and soilsby examining the inverse of the resistance, which is conductivity. If the salt level is too high, this can lead to the destruction of the plants, and if it is too low, it can mean a nutrient deficiency. Water conductivity may reflect the level of electrolytes present in the water. Depending on their concentration, the conductivity of the water solution varies.
Connection diagram
The meter has been designed for Arduino controllers andhassimple and convenient built-in functions. Connecting the sensor is easy, thanks to the Gravity connector.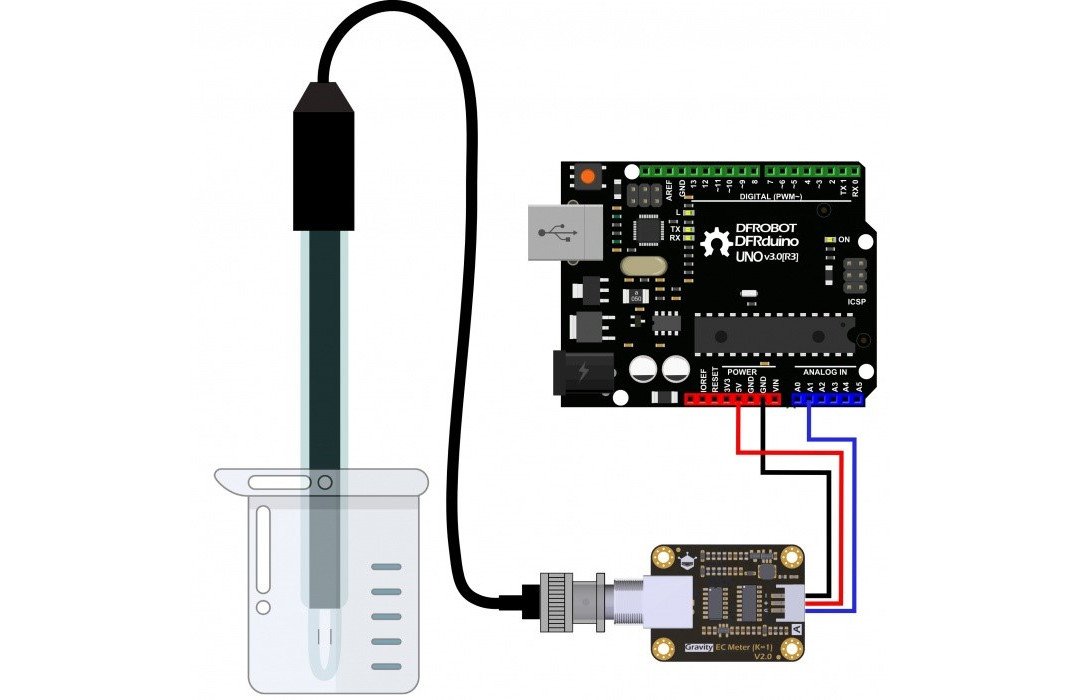 The diagram of connecting the sensor with Arduino.
For better measurement it is recommended to use a temperature sensor, e.g.DS18B20probe.
Main features of the salinity sensor
Wide input voltage range from 3 V to 5 V, output voltage from 0 V to 3.2 V.
BNC and Gravity connector, quick and easy connection.
Library for single-point calibration, automatic identification of the buffer solution used, temperature compensation algorithm.
Unified size and connector.
Salinity sensor specification
Input voltage: 3 V to 5 V
Output voltage: 0 V to 3.2 V
Probe connector: BNC
Plate connector: Gravity PH2.0 - 3-pin
Measurement accuracy: ±

5% F.S

Probe type: laboratory
Conductivity electrode: constant electrode K = 10

Detection range: from 10 ms/cm to 100 ms/cm
Operating temperature: 0°C to 40°C
Probe life: 0.5 years (depending on frequency of use)
Cable length: 100 cm
Dimensions of the plate: 42 x 32 mm
The set includes
1x conductivity electrode
1x signal conversion plate
4x 12.88 ms/cm buffer solution
1x analogue cable Gravity
2x waterproof gasket
1x nut of BNC connector
4x nylon distance M3x10
8x M3x5 screw