Description
Smart device for automatic watering of the plants. Thanks to the humidity sensors connected to the controller compatible with Arduino, the module detects when to run the pump which waters the plant through the hose.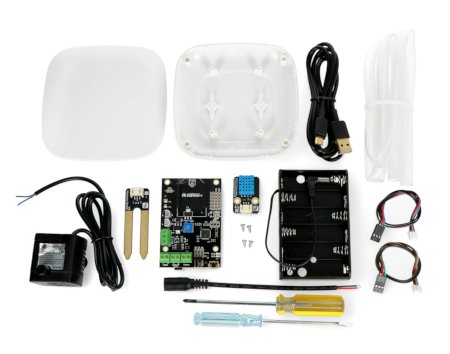 Programming
The device is compatible with Arduino Leonardo which means it can be programmed using free environment of Arduino IDE via micro usb cable.
In order to start DFRduino, it is necessary to connect the system to computer using microUSB cable (included) and select inthe Arduino IDE, the Arduino Leonardo board. User manual along with a sample program for Arduino can be found inthe Wiki Doc system.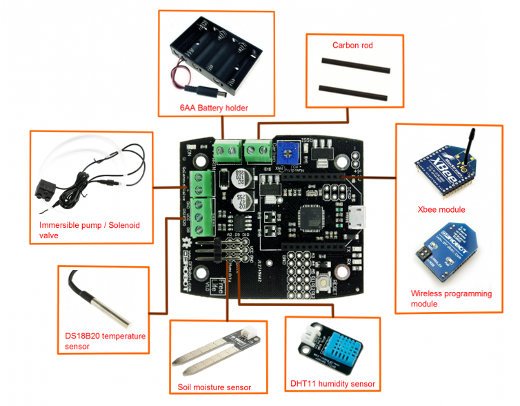 Schedule of connecting elements, a detailed description is inthe user's guide.
Specification
The device consists of two main modules: main board and pump.
Main board
Supply voltage of the main board: from 6 V to 12 V
Microcontroller: ATmega 32u4
Board has 5 digital I/O pins and 4 analog inputs
Socket for humidity sensor (included)
Socket for pump connection (included)
The ability to adjust the humidity level, after which the pump will turn on with the help of a potentiometer
A slot for connecting the XBee communication module 
3.5 mm screw terminal
MicroUSB slot for programming (cable included in the package)
Dimensions: 75 x 50 mm
Pump
Supply voltage of pump: 4,5 V to 12 V
Power: 5 V max.
Flow rates from 100 to 350 L/H
Dimensions: 38 x 38 x 29 mm
Weight: 125 g
Includes:
Main board
The case for the main board
The soil moisture sensor
The DHT11 sensor of temperature and air humidity 
Water hose
Pump
Basket for 6 AA batteries (batteries is not included in package, sold separately)
MicroUSB cable for programming
Two screwdrivers
DC adapter-Female
Set of cables for power connection