Product description: Electric actuator CAR+ 1000 N 10 mm/s 12 V - 30 cm stroke
Linearelectric actu ator powered by 12 V and . Current consumption up to 3 A. The device works at a speed of approx. 10 mm/s without load. Its maximum load capacity is 100 kg (1000 N). The extension value is 30 cm and can be adjusted by means of limit switches. The actuator has a protection class IP53. The CAR+ series models are equipped with rear mounting brackets. The product is applied in such fields as agriculture, automotive, home automation and industry.
Advantages of the CAR+ actuator
Robust manufacture using high quality materials
Stable operation for high extension precision
A mounting bracket at the back of the housing facilitates correct installation of the actuator
Designed for use in 12 V systems
Protection class IP53 ensures resistance to weather conditions
Extension can be adjusted (from several mm to nominal value) using limit switches
Examples of actuator applications
Agriculture - moving elements of ploughs, orchard platforms, sprayers, henhouse doors
Home automation - DIY projects, lifting elements of: desks, tables, beds, flaps, tilt windows
Vehicles - opening the trunk lid, gas control
Industry - use as an executive element in various production lines
Specification of a CAR+ linear actuator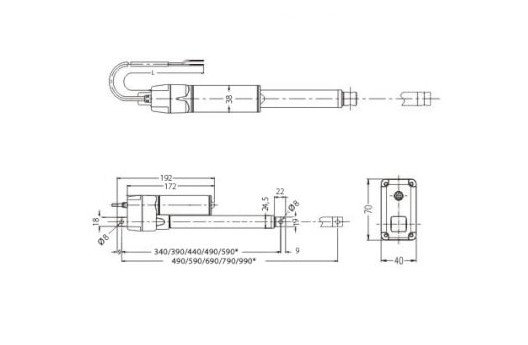 Dimensions of the CAR+ actuator series.
Technical specification
Supply voltage
12 V
Maximum current
3 A
Load capacity
1000 N (100 kg)
Extension
30 cm
Pull-out speed (no load)
approx. 10 mm/sec.
Protection class
IP53
Protections
limit switches
Duty cycle
20% (max. 2 min. continuous operation)
Working temperature
from -25°C to 45°C