Description
Micro:mate is a small expansion board of I/O for micro:bit for learning the electronics and building the projects. Board has 6 rows of 3-pin interfaces of I/O, thanks to which you can connect the modules from the Gravity series, servos, sensors and wires. Pins - 8, 12, 16 - support the voltage from 3 V to 5 V what allows for the digital output (PWM) up to 5 V / 2 A.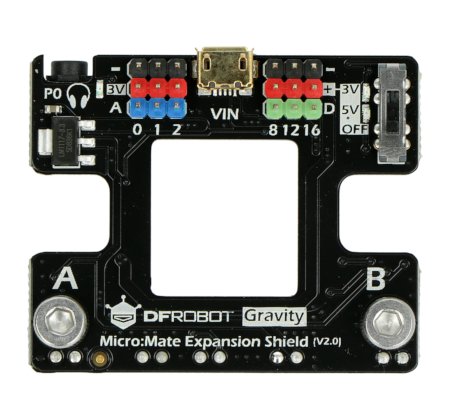 Micro:Mate has the same dimensions as micro:bit. The board is connected with micro:bit through the contacts, providing an easy, concrete and safe connection. Rubber covers and 3.5 mm audio jack at its bottom, provide a stable installation of the expander on the board micro:bit.
Pins
The board has 6 rows of 3-pin I/O interfaces, pins 8, 12, 16 support voltage from 3 V to 5 V. Board is powered with the voltage from 3.3 V to 5 V.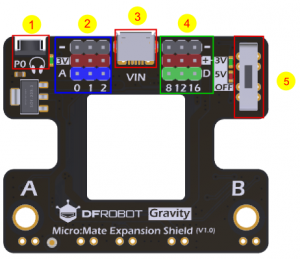 | Number | Name | Description |
| --- | --- | --- |
| 1 | Audio Jack | 3.5 mm audio Jack. |
| 2 | Pins of I/O | The pins are compatible with the Gravity series (3 V). |
| 3 | External USB power port  | External power supply, does not support programming. |
| 4 | Pins of I/O | The pins are compatible with the Gravity series (3 V and 5 V). |
| 5 | Switch of voltage | The switch changes the voltage between 3 V and 5 V (only for pins 8, 12, 16) and OFF. |
Key features
Colored 3-pin interfaces compatible with hundreds of electronic modules of plug&play
3 analog inputs, 6 digital inputs/outputs (PWM), switch of 3 V / 5 V, connector of 3.5 mm audio jack
External USB power port, up to 5 V / 2 A
Notes
The mounting screws should be well tightened to ensure reliable connection
Micro:Mate only supports the voltage of 3 V (3.3 V) of the analog output from pins 0, 1, 2
The microUSB port cannot be used for data transmission
Modules with a higher demand for electricity, should be connected to pins 8, 12, 16 with a voltage of 5 V
Specification
Working voltage: 3.3 V to 5 V
Interface: 6x 3-pin Gravity
Input power: up to 10 W
Measuring range: from 0 V to 3.3 V (analog), from 0 V to 5 V (digital)
Dimensions: 68,5 x 53,3 mm
Weight: 22,8 g