Product description: Fermion - module with voice recorder - DFRobot DFR0745
A simpleto use and practical module withvoicerecorder manufactured byDFRobot. It allows the user to makemulti-segmentsound recordings. The module has a built-in16 MBmemory, which can store up to40 minutes ofrecordings. It has two function buttons and a USB type C connector.
Functional overview
Controllable in 4 ways: through the Arduino board, using AT commands, using the function buttons on the module or through the ADKEY
Allows multi-segment voice recording
Ability to record and playback voice without using the controller
Built-in 16 MB memory for up to 40 minutes of voice recordings
USB Type C connector for connecting the module with a computer
Product is compatible with Arduino
There is auser guideavailable on manufacturer's website, which makes it easy to get started with the module. It includes compilation tutorial, wiring diagram and sample program codes.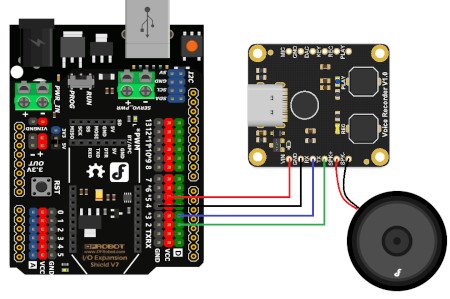 Connection diagram of the module.DFRduinoboard and speaker are not included, they can be purchased separately in our shop.
Pinout and wiring diagram
VIN - power pin from 3.3 V to 5 V
GND - ground of the chip
RX - UART data receive pin
TX - UART data transmission pin
SPK+ - speaker + output
SPK- - speaker output
PLAY - PLAY function button
REC - REC function button
KEY - ADAKY pinout
DAC - DAC converter output
MIC - microphone input pin
Technical specification of the module
Type: voice recorder
Power supply range: from 3.3 V to 5 V
Operating current: > 10 mA
Memory: 16 MB
Connector: USB type C (for data transfer to the computer)
Built-in amplifier: 5 W
Sampling frequency: 48 kbps
Communication interface: UART
Control: Arduino / AT commands / function keys / ADKEY
Module dimensions: 26 x 30 mm
Contents of the kit
Module with voice recorder - 1 pc.
Goldpin strip 1 x 6 - 2,54 mm pitch - 2 pcs.