Description: Parking sensors kit - Blow PS-1 - black
Kit of ultrasonic parking sensors. It helps reverse driving by warning about obstacles using sound. The detection of the obstacle ranges from 0.3 m to 2.5 m.
The system is activated whe reverse gear is set together with the reverse lights. When approaching to the obstacle, the driver receives information about its position on the right or left side, on the attached display. In addition, the distance from obstacles is indicated by sound through the piezoelectric transducer with four frequencies depending on the distance.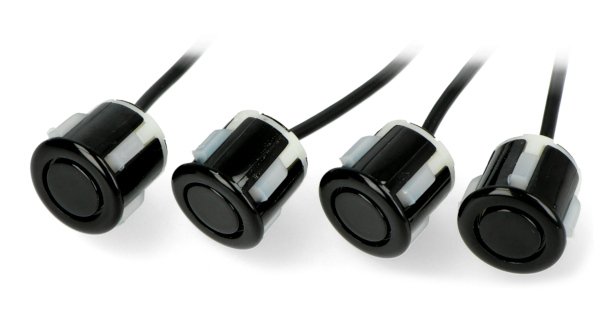 Specification
Supply voltage: 12 V
Operating voltage: from 9 V to 16 V
Current consumption: from 20 mA to 200 mA
Distance of detecting the obstacle: 0.3 m to 2.5 m
Operating temperature: -30 °C to 70 °C
Working frequency: 40 kHz
Number of sensors: 4
The information about the obstacle from the right or left side
Areas of measurement:

1 area: more than 2.5 m
2 area: from 2.5 m to 1.6 m
3 area: from 1.5 m to 1 m
4 area: from 0.9 m to 0.7 m
5 area: from 0.6 m to 0.4 m
6 area: from 0.3 m to 0 m

Sensor hole diameter: 19 mm
Included
4 ultrasonic sensors
Control unit
Display with built-in buzzer
Mounting accessories (including an appropriate drill)