Product Description: Wireless Power Module 5V/1A
The module uses an electromagnetic field to transfer energy between two objects. It provides voltage of 5 V and current of 1 A. Efficiency of the module reaches 90%.
Connection
The set consists of two inductive elements:
the larger transmitting one with a diameter of 43 mm - the 5 V supply voltage should be connected to it,
the smaller receiving one with the diameter of 39 mm - to which the energy receiver should be connected (in the picture it is a LED diode with a resistor).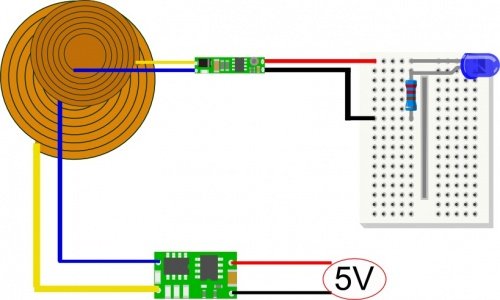 Scheme of connection of the wireless power supply system.
Specification
Supply voltage: 5 V
Output voltage: 5 V
Output current: 1 A (max. 1.2 A)
Transmitter Dimensions:

Outer diameter: 43 mm
Inner diameter: 20 mm
Thickness: 2.3 mm

Receiver dimensions:

Outside diameter: 39 mm
Inner diameter: 20 mm
Thickness: 2.3 mm

Operation distance: 2 mm to 10 mm